Testing the Added Value of Market Incentives on Disaster Risk Reduction in Western Nepal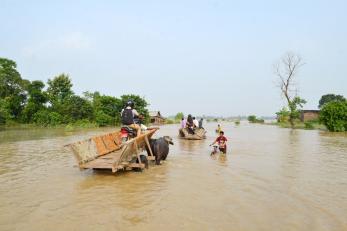 August 03, 2018
Read the report ▸
Read the brief ▸
Central and Western Nepal experienced several devastating flooding events from August 11 – 14, 2017, resulting in 180 deaths, 445,000 displaced households, 63,000 fully destroyed homes and 118,000 partially destroyed homes. In addition to this, the Ministry of Agriculture reported that 10 million U.S. dollars' worth of crops was destroyed and nearly 70,000 livestock died due to the flooding. The 2017 floods affected 35 of 75 districts across Nepal, inundating nearly 80% of the land in the Terai region where Mercy Corps works.
Following the flooding disaster, Mercy Corps conducted a post-shock monitoring study in an effort to explore whether households receiving MREDs' "nexus" interventions — an approach that combines community-based disaster risk reduction (DRR) with market-based, economic incentives — supported improved disaster resilience relative to "non-nexus" households who were only exposed to more traditional DRR interventions.
Key findings from the study include:
Nexus households benefiting from market-based economic incentives with DRR reported higher-levels of dietary and financial well-being following the flooding events, and were more confident in their ability to recover from similar shocks in the future relative to non-nexus households.
Nexus households relied on fewer negative coping strategies and lost fewer crops and agricultural inputs than non-nexus households after the 2017 flooding events.Nexus households reported less reliance on negative food coping strategies (3 points lower than the average coping strategies score of 12), took out loans from local money lenders 11% less often, lost 408 kilos fewer crops and reported 8 percentage points' lower agricultural input losses than non-nexus households.
Nexus households benefiting from the DRR and market-based model had higher levels of key capacities important for disaster resilience prior to the floods, and were able to use these capacities at higher levels to respond to the 2017 floods than non-nexus households. This included:
Greater reporting of household-level DRR plans (16% higher)
Evacuated to a safe place, collected documents and assets, evacuated livestock and warned neighbors 17% - 25% more often
Greater familiarity with risk-mitigating agricultural techniques (23% higher)
Reported access to savings at 20% higher rates
Used savings to respond to flooding 20% more often
Marginalized groups were not able to achieve the same positive outcomes as more privileged groups in target areas, suggesting social inequalities may have a large influence on outcomes: More privileged caste groups (Brahmin/Chetri and Janajati) and male heads of household lost fewer crops and agricultural inputs and borrowed less from informal money lenders than female heads of household and the most marginalized caste group (Dalits).
Nexus households perceived higher levels of recovery, were more confident in their ability to recover from similar shocks in the future and reported less income disruption and better diet diversity after the 2017 flooding events than non-nexus households: Positive perceptions of recovery and ability to cope in the future are key indicators of whether households feel resilient after a shock. Feeling more resilient allows households to move forward and live healthy and productive lives despite facing shocks and stresses.
Key recommendations include:
Actively address discriminatory social norms and aggressively promote inclusion to achieve disaster resilience for the most vulnerable groups.
Access to resources is not enough: support communities to plan and respond to disasters by employing resilience strategies.
Use market-based incentives to nudge behavior and promote long-term and sustainable investment in disaster risk reduction.
Committees, trainings and plans are not enough: promote holistic approaches to disaster risk reduction that address ecological, economic, and social vulnerabilities.