The Potential of Cryptocurrency for Kenya's Youth
Pilot Insights on Stablecoin Micropayments for Digital Workers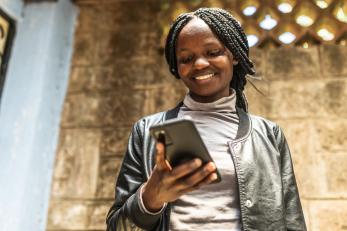 February 16, 2022 • UPDATED February 21, 2022
Download the report ▸
Download the policy recommendations ▸
Mercy Corps Ventures (MCV) invests in and fuels high-impact enterprises working in frontier markets, from seed to scale. As part of a focus on financial resilience, MCV works with partners to responsibly pilot new financial products and services tailored to un/underbanked and low-income populations. In 2021, MCV ran a pilot with Celo Foundation and other partners to test cross-border stablecoin micropayments for Kenyan youth completing digital microwork.
In Kenya, 68% of the total population is below the age of 35, but the formal economy is not meeting job demand for this group. One promising solution can be found in digital microwork - a form of digital labor outsourced by global firms that breaks up complex technical projects into thousands of fractional tasks which can be completed at any time on a mobile. High transaction costs and delayed payments have been significant barriers to this opportunity, but cryptocurrency - specifically, stablecoins - can remove this costly barrier. This pilot proved that stablecoins reduce the costs and frictions of sending and receiving cross-border micropayments, and can incentivize savings behavior in low-income youth.
This report can be used by a number of stakeholders:
For policymakers, regulators, and financial institutions, this report outlines the current cryptocurrency landscape in Kenya, the potential of this opportunity, and relevant policy recommendations.
For venture capital firms, impact investors, donors, and funding bodies, this report gives insights into the operations of piloting new solutions, and provides an example of how cryptocurrency can drive financial inclusion.
For the fintech and crypto community, this report is a real-world use case demonstrating the potential of cryptocurrency in emerging markets.
To find out more about Mercy Corps Ventures pilots, visit their Financial Resilience page.
Ready to donate cryptocurrency?