PAHAL Resilience and Impact Evaluation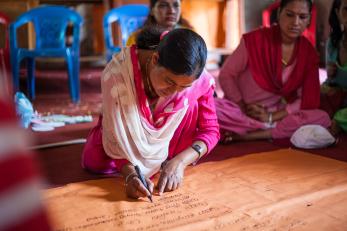 April 10, 2020
This report highlights the key findings from the mixed methods impact evaluation and cost analysis of PAHAL's (Promoting Agriculture, Health and Alternative Livelihoods) integrated resilience programming, which targeted marginalized and vulnerable households exposed to a variety of ecological, climate and economic-related shocks and stresses.
This evaluation found that PAHAL's "full integration" package (in comparison to only agriculture, WASH and nutrition interventions) led to a considerable improvement in households' ability to manage shocks, demonstrated through: 
A deeper reliance on positive coping mechanisms following shocks,
Feeling less vulnerable to future shocks than comparison households,
Confidence in their ability to access government services, and
An increased ability to access natural resource management resources
Furthermore, households in the water intervention group:
Rely more on positive coping strategies
Report feeling less vulnerable or exposed to future shocks
Improved their ability to cope and recover from actual shocks by relying less on negative coping strategies
Had higher Food Consumption Scores over time
Has the greatest value for its cost with $786.37 in additional value for the investment spent on each household
The evaluation also found that financial services interventions have the highest return on the investments made by the households themselves, resulting in $878.09 more income than PAHAL agriculture, WASH and nutrition interventions over a 10-year period.
The evaluation found mixed evidence on integrated household's ability to access resilience capacities and no evidence that PAHAL "full integration" programming had any impact on the number of shocks households experienced or their losses following these shocks. The evaluation also found some evidence that the most vulnerable households may not have benefitted as much as the average PAHAL participant.