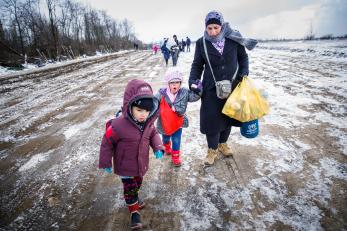 September 15, 2016
Today we face the largest refugee and forced migrant crisis the world has ever seen: 65 million people are currently uprooted from their homes.
Unlike decades past, the primary driver of all of this displacement is violent conflict.
Just ten years ago, about 80% of humanitarian aid went to helping the victims of natural disasters. Today, 80% of aid is going to people whose lives have been turned upside down by conflict.
Yet, governments spend just around 1% of total Official Development Assistance on conflict mitigation and peacebuilding programs.
Mercy Corps' new paper provides unequivocal evidence that conflict reduction is possible.
Building on our experience implementing 95 conflict management programs in more than 30 countries, Mercy Corps' paper, An Ounce of Prevention: Why increasing investment in conflict prevention is worth more than a "pound of cure" in addressing the displacement crisis, demonstrates how investments in peacebuilding can prevent conflict and mitigate violence.
The report includes evidence and case studies from countries including Central African Republic, Colombia, Guatemala, Iraq, Jordan, and Nigeria — all major sources or hosts of displaced populations.
Shockingly, even in the most fragile states, the amount of funding for peacebuilding only rises to 4%.
This is a strategic oversight with grave consequences.
To rectify it, Mercy Corps is calling on donors to at least double their investments in conflict mitigation and peacebuilding programs as an overall percentage of their foreign aid spending.
We're also calling on governments to take many more steps to ensure our foreign assistance is as effective as possible in stopping violence.
Read the full report to see the full suite of case studies, analysis, and policy recommendations. ▸