Going With or Against the Flow?
A Study of Water Governance in Goma, DR Congo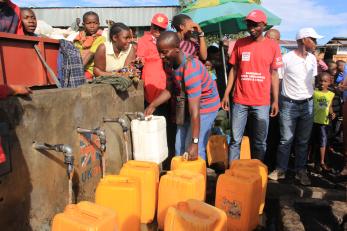 October 29, 2019
Mercy Corps partners with the London School of Economics on groundbreaking water project in the Democratic Republic of the Congo
Mercy Corps' IMAGINE program has established the first public-private partnership (PPP) in the water sector in DR Congo and set up a Congolese company called Congo Maji Sarl, which manages part of the water utilities in Goma and Bukavu. The research partnership with the London School of Economics (LSE) thus presents a unique opportunity to understand how adaptive management and 'Thinking and Working Politically' has enabled the program to navigate the challenges posed by an extremely fragile context.
LSE also conducts a longitudinal study of financial and water governance in select households in Goma through a combination of in-depth financial data, iterated interview questions, and broader social network research. By building trust with members of each, researchers will begin to uncover how these households manage their needs and resources and use their networks in an environment characterized by uncertainty and insecurity, and whether IMAGINE is contributing to their ability to do this.