The Humanitarian System in CAR: A Time of Challenges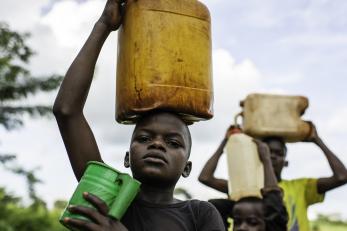 February 22, 2018
Read the report in English ▸
Read the report in French ▸
Mercy Corps in the Central African Republic (CAR) recently published a report on the current humanitarian system in CAR, and recommendations for how to improve it. The report, which was written with the support of the NGO Coordination Committee in CAR, is available in both English and French.
As CAR enters its fifth year of crisis, humanitarian needs are increasing and obstacles to the delivery of aid are mounting. The study invites humanitarian actors, as well as those who can affect their work, to position themselves as agents of profound change. Based on an analysis of the security, legal, political and financial environments, the study outlines 55 recommendations for all the actors involved in humanitarian assistance to review, improve and reinforce their practices.
The study is based on a broad conception of the humanitarian system: International and national NGOs, UN agencies, UN peacekeeping forces (MINUSCA), political actors, donors, and religious structures were all consulted and participated in the construction of this analysis, and they all have a role to play in improving the delivery of humanitarian aid.
Moreover, this analysis is a case study that is not only addressed to the actors involved in CAR: By pointing out structural challenges that affect the entire humanitarian system, it aims to serve as a starting point of reflection for all those who strive to assist conflict-affected populations in protracted crisis situations, from Syria to the Democratic Republic of the Congo.