Can Economic Interventions Reduce Violence?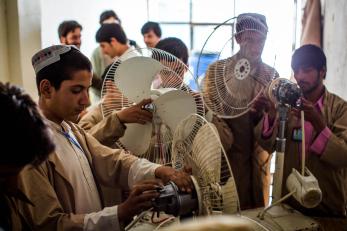 February 13, 2018
Read the Report ▸
Read the Policy Brief ▸
Reducing the growth of violent movements is a perennial challenge for the international community, in large part due to the multitude of reasons why people engage in violence. While there is limited evidence that economic programs — such as those that improve employment — by themselves can curb engagement in political violence, as shown by research by Mercy Corps and others, such interventions are still a preferred approach of numerous development actors working to promote stability in fragile and conflict-affected countries.
In response to this apparent knowledge gap, Mercy Corps, in collaboration with the Political Violence FieldLab at Yale University and Princeton University, and with financial support from the United States Institute of Peace, undertook a randomized controlled trial with 1,590 participants to test the impact of particular economic interventions — specifically, a youth employability program and cash transfers — on youth attitudes toward and willingness to support political violence. Mercy Corps implemented these economic interventions under a US government-funded project known as INVEST in Kandahar Province, Afghanistan. The program's primary goal is to help vulnerable Afghan youth develop skills that are responsive to local labor market needs and to help them secure economic opportunities rather than reducing political violence specifically. However, we used this opportunity to test whether a program designed explicitly to improve economic outcomes can also affect support for political violence.
Key Findings:
Vocational training by itself had no impact on youth support for political violence, despite helping to improve economic outcomes six to nine months post-intervention. Even after experiencing those improvements, youth still showed no change in support for political violence.
Cash transfers reduced willingness to support violent groups in the short term; however, these positive effects quickly dissipated.
The combination of vocational training and cash transfers resulted in a large reduction in willingness to engage in pro-armed opposition group actions six to nine months post-intervention.
Conclusion and Recommendations:
Pair short-term and long-term interventions to reduce violence.
Invest in multidimensional interventions to address multifaceted motivations for violence.
Make intentional use of cash based on awareness of the benefits and risks.