Building Bridges to Laputta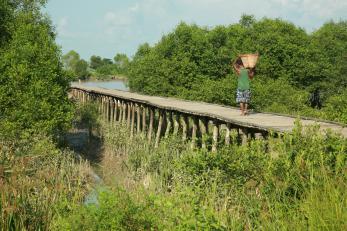 September 04, 2020
When the Myaungmya Suspension Bridge collapsed in April 2018, it was just one more obstacle for the residents of Laputta Township in the Ayeyarwady Region, Myanmar. Sadly, these communities are accustomed to challenges. Laputta is one of the poorest and most isolated townships in lower Myanmar. Its labyrinth of saltwater rivers makes it not only challenging to transit, but also extremely vulnerable to climate change and severe weather.
Mercy Corps began working in Laputta Township following the devastation of Cyclone Nargis in 2008. In 2016, Mercy Corps and its partners received funding from the Livelihoods and Food Security Trust Fund (LIFT) to implement the Linking Laputta to Markets (LLM) project, targeting 3,700 smallholder rice farmers and 1,560 landless residents.
LLM's two complementary components aimed to increase vulnerable people's incomes and resilience. For smallholder rice farmers, LLM created and supported 77 farmer groups to increase productivity, market access, and use of improved inputs/services. For landless populations, LLM provided job training and linked graduates with employment opportunities.
The rice value chain component of the project generated an economic rate of return of 8.3% over a project period of four-and-a-half years. Farmers earned an additional $2.3 million and market actors (millers, traders, and companies) an additional $1.6 million in profits. Income gains were created by forming farmer groups and supporting them to adopt productivity- and resilience-improving practices, business models, and technologies. The project linked farmer groups to market actors through interventions in contract farming, certified seeds-on-credit, and crop insurance. Interviews with 31 people involved in the project revealed the following key lessons learned:
Farmer groups create an inclusive platform to launch market interventions. The building of farmer groups was time-consuming and costly. However, the trust established during the process helped to initiate new business models with market actors. Su Paung Aye Yar, the township-level farmer organization, has the potential to replace Mercy Corps as a market facilitator.
High-quality paddy seed is a catalytic opportunity. Farmers' use of high-quality, certified paddy seeds can increase yields by 5-15%, generating an additional profit of up to $25 per acre. Demand is rapidly increasing, and supply is currently insufficient.
Great partnerships lead to more great partnerships. One impactful partnership with Golden Sunland led to a constellation of partners providing services to fill the unmet needs of farmers. The impact on farmers increased with the broadening array of services offered by the partnership: credit, inputs, and mobile phone advisory services.
Many market actors need financial support to de-risk new activities. The project primarily used soft incentives like advice, linkages, and the introduction of new business models. Providing financial support, in order to de-risk market actors' investment, could amplify the results of successful interventions.