Addressing the Climate-Conflict Nexus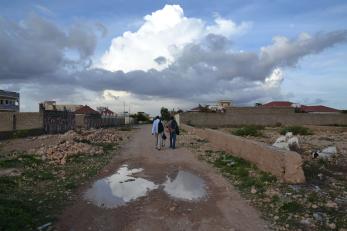 January 04, 2022
Increasingly, researchers, implementers, and policymakers recognize the potential of climate change exacerbating and increasing conflict, while acknowledging that this phenomenon is complex and context specific. This challenge is particularly pronounced in fragile states, which are simultaneously at risk of greater climate impacts and unable to adapt or mitigate them, compounding existing risk factors for instability and violent conflict. Though there is growing awareness of the climate-conflict nexus and its challenges, how to respond is less clear.
For over a decade, Mercy Corps has been working in places like Colombia, Nigeria, Mali, Somalia, Myanmar, and Afghanistan, building resilience to climate change, conflict, and other risk factors, to help communities achieve their long-term development goals. At the same time, we have invested in secondary and primary research to better understand these linkages and the potential for different program approaches to address climate-related conflict. This paper draws on research and Mercy Corps' broad and diverse experiences working at the nexus of climate change and conflict, and provides knowledge and evidence-based insights for driving this work forward. We conclude the report with four programmatic principles and recommendations for three key areas for program investments with the potential for impact. Below, our guiding principles for future investment are outlined:
Funding supporting climate resilience should be targeted to fragile and conflict affected states.
Pilot integrated, multi-sector approaches, that address short and long-term risks.
Efforts should expand beyond the community level.
Finally these efforts must be accompanied by research on identifying what is or is not effective.