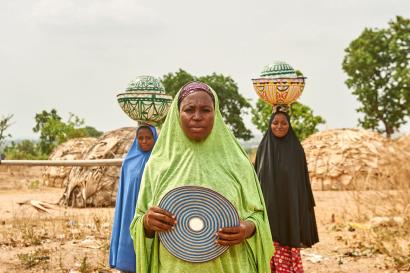 The world is facing some of the greatest humanitarian challenges of our time, and at Mercy Corps, we know that no single organization can tackle them alone. That's why we champion working in partnership to spark, scale and sustain change for communities in need around the world.
What we do
To solve today's complex problems, we go beyond traditional humanitarian aid to support innovative approaches and drive transformational change.
Mercy Corps works on the front lines of poverty, conflict and disaster in more than 40 countries around the world. We deliver lifesaving supplies to meet urgent needs — and create holistic solutions for lasting, longer-term change.
Our corporate and foundation partners help us do this on a larger scale, reaching more people and creating longer, more sustainable impact.
Our approach is different
Short and Long-Term Solutions: We act immediately when crises hit, but create lasting change by thinking long-term
We take a comprehensive approach, looking for the connections between people and systems.
Locally-Led and Market-Driven: We understand that communities are the best agents of their own change and local markets are the best engines of long-term recovery
We push beyond the status quo and innovate to deliver immediate and scalable change
Partner beyond the expected
Rather than presenting a traditional proposal to a business or foundation as a donor, we believe that the strongest solutions emerge when we work together with you as partners in a process of co-creation. We work collaboratively with our partners to identify our respective and mutual objectives and the best strategies to drive impact for each organization involved and for the communities in which we work, live and operate. We strive to go beyond traditional aid to bring transformational change where it's needed most.
Contact us today to discuss launching a new partnership.
Interested in exploring a partnership?