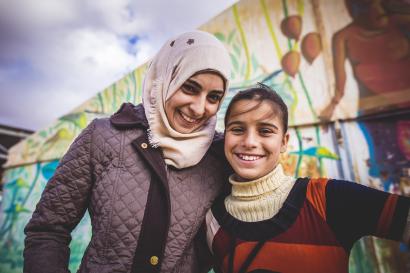 Mercy Corps works to create lasting solutions to some of the world's toughest challenges. With your partnership and support, we can go beyond traditional aid to support innovative approaches and bring transformational change where it's needed most.
A cause-marketing partnership with Mercy Corps will create impact for your company, your customers and the millions of people we serve each year. Together we can enhance your brand, meet your business goals and build customer loyalty — all while raising critical awareness and funds to help people triumph over adversity and build stronger communities.
Go beyond with Mercy Corps
Joining with Mercy Corps links you with a bold cause and brand — we were named a 2017 Harris Poll Equitrend "Brand of the Year" and "Most Loved Brand" among international aid nonprofits.
We will work with you to create an authentic campaign that motivates customers to act — driving loyalty, sales and other business objectives. There are many options to design a campaign that is right for your company, including donating a percent of sales, giving your customers the opportunity to add a donation at checkout, or inviting your customers and employees to join in a fundraiser for Mercy Corps.
We have everything you need, including sample messaging, social shareables and other customizable templates, to help you communicate easily and effectively about your partnership with Mercy Corps with your consumers.
Get in touch with us today to launch your cause marketing campaign.
Interested in exploring a partnership?