Bacardi and Mercy Corps have worked together since 2018 to support disaster response and recovery across the Caribbean islands and help communities grow stronger.
If you are a small business interested in receiving support from this program, please contact our team in Puerto Rico at 787-360-2273.

In the Bahamas
Hurricane Dorian struck the Bahamas as a Category 5 hurricane on September 1, 2019 and remained essentially stationary over the Abaco Islands and Grand Bahama Island from September 1 to September 3. More than 70,000 people were in the path of 120mph winds or stronger. Most of the islands of Grand Bahama and Abaco have been severely affected and thousands of people have been displaced from their homes due to the destruction — left without water and supplies to meet basic needs.
Mercy Corps + Bacardi have joined forces to help survivors of Hurricane Dorian. Mercy Corps is working to provide lifesaving items like water, shelter, and hygiene supplies as well as work with communities to recover and rebuild.
In Puerto Rico, Sint Maarten and the U.S. Virgin Islands
Hurricane Maria, the worst storm to hit Puerto Rico in over 80 years, arrived only two weeks after Hurricane Irma passed just north of the island. The storms caused massive damage across the island and left hundreds of thousands of residents and small businesses in need of assistance.
In August 2018, Bacardi and Mercy Corps launched a new partnership to support small business owners and tourism recovery in Puerto Rico, the U.S. Virgin Islands and Sint Maarten, to create a ripple effect of positive economic growth.
Together, over the next year, we will reach thousands and support the rebuilding and resilience of small businesses across the region.
Our approach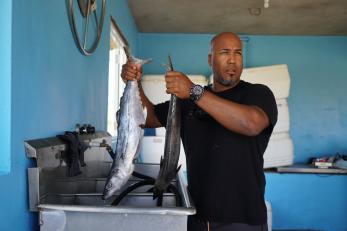 Our approach centers around three key and interrelated focus areas:
Promote business recovery, growth and resilience. We will provide tailored support to business owners to help drive economic recovery and employment across Puerto Rico. This may include cash grants, technical assistance, mentoring or training to emerging or existing businesses.
Rehabilitate natural areas that draw tourists. We will focus on key tourist areas, including coastal, marine and beachfront sites.
Spread the word. Through an island-wide outreach campaign, and in partnership with government associations and local organizations, we will promote the fact that businesses and natural areas are ready to welcome tourists, with the goal of driving tourism and commerce.
Our work will focus on Culebra, Vieques, Humacao, and Cataño in Puerto Rico, as well as the U.S. Virgin Islands and Sint Maarten, areas chosen because they are both popular tourist destinations and because they are areas that have been largely overlooked by other aid efforts.
Through this program, we will empower more than 300 individual owners or employees of small and medium-sized businesses and provide tailored and more in-depth support to 50+ businesses to enable them to build back better. We will also rehabilitate a number of natural areas to ensure that top tourist destinations are ready for business.
The Caribbean Innovation Challenge
MicroMentor, a social innovation of Mercy Corps, and Bacardi are teaming up to support entrepreneurs and small business owners in Sint Maarten and the US Virgin Islands, through mentorship and financial incentives.
The Caribbean Innovation Challenge 2019 will award 25 local entrepreneurs with innovative ideas for products, services or processes that will contribute to the economic development of the territory. Small businesses in the islands represent 85 percent of jobs and need tools to recover, grow and become more resilient to future crises.
To participate in the contest, entrepreneurs must have an active business, be of legal age, and live in the territory. A group of local judges will select the best ideas and award them with cash prizes of up to $5,000 USD. Entrepreneurs will also have free access to the MicroMentor platform, where they can connect with a business mentor to help them finalize their pitch.
Business profile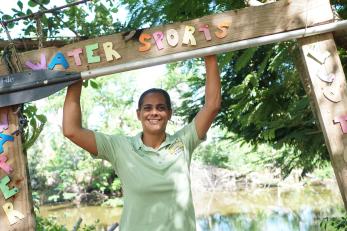 Christina is the owner of Eco Sports Tours in the Natural Reserve in Humacao. Her business offers guided walking tours and self-guided water activities, such as kayaking and stand-up paddle boarding for visitors looking to explore the reserve. The reserve was badly damaged in Hurricane Maria and remained closed for six months after the storm. Christina and her team of eight spent months working to clear a wall of debris and vegetation. In addition to physical damage to the natural area Christina relies on for her business, Christina has seen a decline in visitors and revenue. From 2016 to 2017, she experienced a 90 percent decrease in visitors during her busiest season. This is by far the biggest disruption Christina has seen in 19 years of business.
Today, we support Christina with promotional training, clean-up in the reserve, and other materials to help her get her business back up and running.