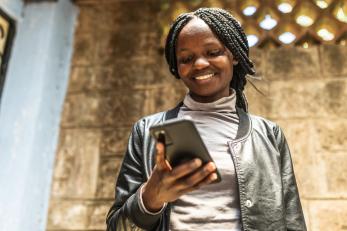 We accept cryptocurrency as a donation
In a decentralized world, connection matters. Your cryptocurrency gift has the power to connect people to a world of possibility.
Around the world, Mercy Corps works directly with communities to cope with and adapt to today's toughest challenges — from natural disasters to climate change to conflict — while developing shared solutions to thrive into the future. Connecting our broad experience and resources to local knowledge is how we create and sustain transformational change.
Today, your cryptocurrency gift can support our work responding to humanitarian crises in places like Ukraine, supporting Venezuelan migrants in Colombia with access to financial services, reaching earthquake survivors in Indonesia and Syria, providing digital tools to pastoralists in Kenya to help them adapt to climate change, and so much more.
Ready to donate cryptocurrency?
We utilize blockchain technology in our programs
Mercy Corps is committed to responsibly designing, testing, and scaling blockchain technology in our work around the globe, focusing on where this technology can add unique value and has transformative potential.
Increasing economic opportunity is a critical focus of Mercy Corps' new 10-year strategy. Extreme poverty is on the rise for the first time in two decades and climate change is expected to force an additional 160 million people into poverty by 2030. We need a truly inclusive and equitable global financial ecosystem to alter this trajectory, and we see blockchain technology as part of a powerful set of new tools to drive economic inclusion and climate resilience, particularly for those often left behind — the under/unbanked, women and youth, people on the move, and entrepreneurs in emerging markets.
Learn more about some of our crypto and blockchain-related work: