Apolou and Resilience Challenge Fund Impact in Karamoja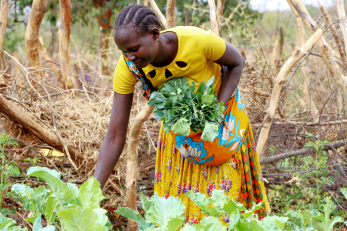 July 07, 2023
Download the Frequently Asked Questions pamphlet ▸
Apolou is a five-year USAID/Bureau of Humanitarian Assistance-funded Activity with the goal of improving food and nutrition security for 310,000 participants in the Moroto, Kotido, Amudat, Kaabong and Karenga districts of Karamoja, Uganda. Apolou targets transformative change at the population level, with a focus on Pregnant and Lactating Women (PLW), Children Under 5 (CU5), farmer groups, and Adolescent Girls. The Activity leverages Mercy Corps' innovative and successful market systems approach, resilience thinking, outcome layering, and women and youth inclusion.
To achieve Apolou's goal for collective impact, the Activity layers its four purposes:
Inclusive and effective governance contributes to food and nutrition security.
Adolescent girls, PLW and CU5 are nutritionally secure.
Reduced incidences of Water, Sanitation and Hygiene (WASH) related diseases.
Improved livelihoods and income support for household food security.
The Apolou Activity emphasises Social Behavior Change (SBC), resilience, adolescent inclusion, and gender mainstreaming as cross-cutting themes.