Why women are key to building resilience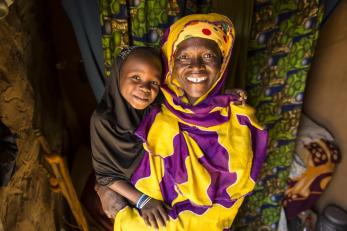 September 15, 2014
"You helped us so we could be stronger."
Those are the words of Hawa Maney, a 35-year-old single mother in Niger, in the Sahel region of West Africa.
When the devastating 2012 food crisis hit her village, Hawa received peanut seeds and goats from Mercy Corps, and by the next year she was doing better — she'd started a small business selling peanut oil and her goats had reproduced.
But another drought hit too soon, just a year later, and the peanuts are gone. There isn't enough fodder to keep her goats fed and producing milk. And her 20-year-old son left to find work in the capital, leaving Hawa to figure out a way to feed her and her 6-year-old daughter, Ramatou, on her own. What resources does she have left? 
As drought becomes more frequent in the Sahel — a complex region bordered by the Sahara Desert to the north and the Sudan Savannah to the south — it is imperative that we reevaluate and improve the ways we build individuals' and communities' ability to withstand the shocks and stresses accelerated by climate change.
This is what we call resilience: It's not just about surviving the latest crisis, but preparing communities with new thinking, tools and resources to adapt and prevent future crises from hitting them so hard.
Hawa is struggling again — some days she has only a bowl of lettuce to eat — but she will be able to recover more easily this time. She still has her goats. She still has her knowledge to grow that new crop of peanuts. We know that building resilience takes time, and that progress comes in small increments. But Hawa's story is just the beginning:
How can we do it better?
Women shoulder the burden — and the potential
Last year, we decided to study the region, conducting field research in Mali, Niger and Nigeria to determine how people, households and communities cope with repeated shocks. We found that while many issues stood as barriers to advancement — including environmental, economic and social challenges — one factor loomed largest: gender inequality.
Read the paper: Rethinking Resilience ▸
Our research found that most of the ways that communities deal with hardships like drought put more of the burden on women. Men, like Hawa's son, migrate to the city to find work, leaving mothers to forage for food for their children. Less rain means more time spent collecting water, a task for which girls are often taken out of school. And with larger crops failing, the gardens and small livestock that women maintain become even more essential for a family's survival.
And yet, women do not have access to the information, decision-making power and influence necessary to adapt to their changing environment and preserve natural resources.
The marginalization of women and girls is so prevalent in the Sahel — cutting them off from education, financial resources and decision-making power — that an entire half of the population is not able to contribute to building stronger communities.
In fact, we believe that unless the region directly addresses this issue, there is no chance for the people there to become truly resilient to the ongoing crises they face.
Making gender equality a reality
In order to do become more resilient, women must gain equal access to financial, physical and natural capital — credit, agricultural tools and animals, entrepreneurial training — as well as knowledge, skills and a voice in their family's and community's decisions.
It's also critical to build women's social and political capital, leveraging traditional social networks to collectively address problems and financial planning — like the village savings and loan group that Hawa joined a year ago. Their support is getting her through until the next harvest.
In our new paper, Rethinking Resilience, we lay out many specific new recommendations including:
Provide opportunities for women and girls to build bonds by creating or strengthening "safe spaces" and support networks across and outside their communities.
Increase women and girls' access to and control over productive inputs (land, financial services, agricultural tools, etc), resources, services and technologies.
Work with communities to empower woman and youth in collective action processes, including disaster risk reduction, natural resource management, conflict management, and social protection.
Engage gatekeepers like husbands, parents and community leaders in the design of programs aimed at improving women and girls' skills, economic opportunities and empowerment.
Read the full report to learn more ▸
A gender-integrated approach that empowers women and girls, while also engaging men and boys, will be crucial for achieving long-term positive change for Hawa and so many women like her. We must work to keep her words true now and in the future.
Help us provide even more support to the people who need us around the world.