Where violence traps youth in poverty, opportunity frees them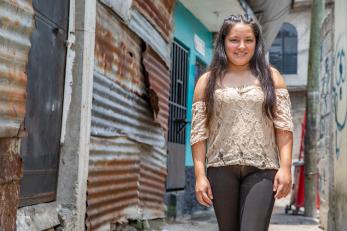 June 07, 2019
Seated in the entry of her family's small house, Claudia, 21, explains the rules she intrinsically knows to follow. "My time is handled like this," she says, gesturing to the home, a squat, dim structure at the end of a narrow alleyway in one of Guatemala City's most notorious <>. "I almost never leave my house, except to go to work."
Outside, the makeshift tin- and concrete-shrouded streets are abandoned, quiet save for a bony cat nursing a litter of new kittens and a trio of young men posted against the front wall, talking and idly passing the time.
Of necessity, Claudia has learned never to leave the house alone, and not to spend more time outside than is required. And when asked what it's like to live in a place where she can't move freely, she can only shrug: "I'm used to it."
The cycle of risk in Guatemala City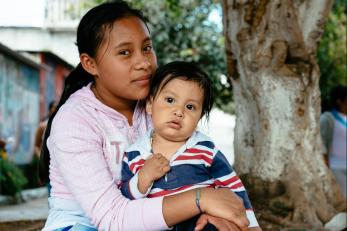 Claudia's in Guatemala City is classified as a "red zone," a hot spot of drug- and gang-related violence concentrated in one of the world's most dangerous cities in one of the world's most dangerous countries.
"[I worry about] being able to get back home even with so much danger, that nothing will happen to me on the way to work," Claudia says of her biggest daily concern. "You can be [safe] inside your home, but you never know what is happening out there."
The house she shares with her parents and four siblings is a sanctuary, a secure place where she talks with her family, reads, watches TV and scrolls through social media. But outside, where the building corners are tagged by gang markings claiming territory, the energy is different. The hush in streets comes not from serenity, but of absence, a void of sound and activity indicative of a place where people don't feel comfortable moving around.
"People do not leave their houses out of fear," Claudia says.
In addition to its ranking as one of the most unsafe nations, with one of the highest homicide rates, Guatemala also suffers soaring child malnutrition, significant income inequality and extensive corruption. It's a place where nearly 60% of the population lives in poverty, the majority of crimes go unpunished, and job and educational opportunities are few.
And those living in the most precarious circumstances of all, like Claudia, have the fewest options to overcome them. They're often forced to make one of two imperfect choices: accept, or flee.
And many are fleeing, risking everything to migrate to new cities or countries for a chance at security.
But many, too, are staying, caught in a trap of chronic poverty and instability that perpetuates itself, because you can't rise above these challenges without opportunity — education or a good job — and you can't access opportunity if you don't have the income or safety to pursue it.
Changing the narrative, changing the future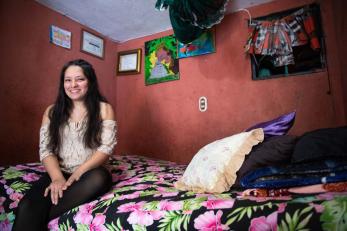 Compounding the financial and logistical burden of education or job training, young people like Claudia — those living in red zones — face even more dismal prospects based on employers' perception that they are untrustworthy because of their address. "Every job asks where you live," Claudia explains, "and my does not have a good reputation."
These barriers can keep people from seeking opportunities to advance their futures, or even believing that those opportunities are there — which risks the sense of hopelessness that prevents change.
"I used to think I would have a hard time making it, because of the few opportunities for jobs and school," she says. "People would say things are impossible. People would lower my self-esteem. But [I learned] you can't let them."
Claudia's family couldn't afford to send her to university after she graduated high school and, because stable jobs are so hard to get, she had resigned herself to working any position she could find to help support her family.
But two years ago Claudia received a scholarship from Mercy Corps to attend a professional training course in hospitality, where she learned life and practical skills to help her pursue employment that she would otherwise not be considered for. It also included violence-prevention curriculum intended to help young people avoid conflict and make safer choices.
The education enabled her to get a position at a popular restaurant, and change the trajectory of her life.
"I became more assertive," Claudia says. "The day I went in, I had to go through all these interviews, and I passed them. And I realized the education I had been given helped me so much."
The training is part of our work to break the cycle of violence in Guatemala City's most volatile by empowering young people like Claudia with opportunities — education, jobs, skill building — that allow them to engage in their communities in more positive ways.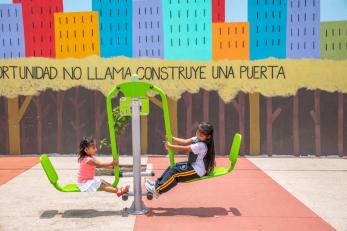 "It is a great program that helps out so much. It helps people get on their feet, and learn how to live in the community and be a leader," Claudia says. "It taught me so many things. They taught me to be different — that my words had meaning."
Nearly a year into her job, Claudia is earning her own income, contributing to her family and making plans for her life for the first time. The negative messages that once held her back now motivate her to accomplish her goals: continue studying, work toward restaurant management and eventually buy her own house. "I always take the bad comments well, [and use them] to lift me up instead," she says.
"The way I think has changed," she adds. "The opportunity … helped me up the ladder toward my future."
And while the daily risks she faces in her neighborhood still persist, her newfound belief that change is possible — that her community can become a place where people are able to stay and thrive — is a critical step in overcoming them.
"The truth is this is helping a lot so that people can move forward, to find jobs, to do better," she says. "It helps them to be motivated and refrain from … criminality. It lets them know they have a shot at studying, and that will help them find a job and stability."
How you can help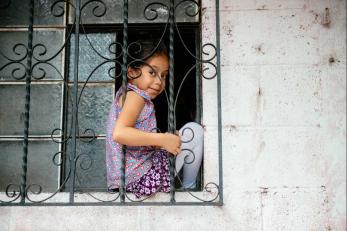 Help us provide even more support to the people who need us around the world.