Vocational training helps youths find jobs in Zimbabwe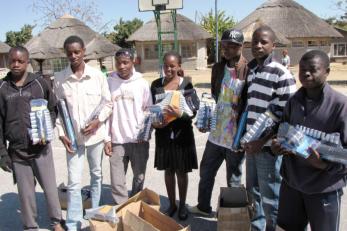 August 18, 2011
Twenty-year-old Nyasha Zulu and 21-year-old Simbarashe Mudara have lived most of their lives in the dormitory town of Chitungwiza, 30 kilometers from Zimbabwe's capital, Harare. The town has no major industries to speak of, and so youths such as Nyasha and Simbarashe often spend time engaging in risky behavior.
Now, thanks to Mercy Corps — under the Non-Governmental Organization Joint Initiative for Urban Zimbabwe (JI) — they have been able to receive vocational training to help them begin their own small businesses and make better choices about their lives.
Implemented by Mercy Corps in 2008, the vocational training program has been assisting more than 300 youths in Chitungwiza. The youths are drawn mainly from vulnerable and poor households in the town to access vocational training opportunities.
Under the vocational training component, Mercy Corps works through tertiary training institutions such as Young Africa to educate unemployed youth in basic skills such as motor mechanics, metal fabrication, auto electrics, hairdressing and catering. We then offer them the opportunity to reinforce these skills during industrial and community-based apprentice trainings and internships.
Nyasha and Simbarashe recently graduated after gaining experience in motor mechanic skills and also received a start-up kit from Mercy Corps. Over the next few months, each will focus on their respective trades instead of looking for formal employment — which is a difficult feat in a country that has 85 percent unemployment levels.
"Before the training, I used to spend most of my time doing nothing, which was getting me nowhere. Now I'm working as a paid intern with a mechanic in Chitungwiza and hopefully planning to start my own workshop," said Simbarashe.
Even during this time of economic difficulties, these two have not only gained life skills, but are acquiring market-needed skills through the business planning and management training that will allow them to be competitive and successfully integrate into society.
The Mercy Corps vocational training component focuses on skills that are in demand, and either provides employment opportunities directly or provide significant support for learners entering the job market. Also critical to the Mercy Corps program success — and to the future of Zimbabwe's youth — is not only providing essential technical training, but also preparing the youth to assume the responsibilities of accountable citizens.