Meet our Typhoon Haiyan emergency response team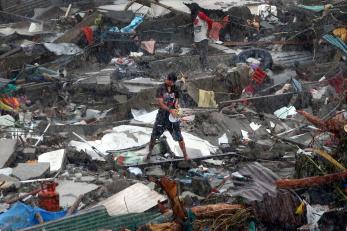 November 12, 2013
Heavy rain continues to fall in the Philippines and the challenges to get aid to survivors of Super Typhoon Haiyan (Yolanda) are pronounced — communications are still spotty and transportation to the hardest-hit areas is impaired by damaged airports and seaports. The President of the Philippines has declared a national state of calamity.
We're hearing reports that food stocks have been destroyed and the water supply cut off. Concerns about water-borne illness are mounting and survivors are dealing with untreated injuries and exposure to the elements.
Our experienced emergency responders are well-prepared for navigating such devastation. They are experts in water, sanitation, logistics and distributions and are working to ensure lifesaving supplies get to survivors in these critical early days.
Meet the team leaders who are deployed to begin delivering relief to affected families:
Philippines emergency response team
Mark Ferdig, Emergency Response Team Leader

Mark brings extensive crisis experience to lead our Philippines emergency response. He was on the ground in Aceh, Indonesia after 2004's Indian Ocean tsunami and knows well the challenges of reaching survivors in post-disaster environments. He just returned from visiting Syrian refugee communities in Lebanon and is now working to rush critical supplies to Filipino families on the hardest-hit islands.

Michael Bowers, Director of Strategic Response & Global Emergencies

Michael leads Mercy Corps' team of first responders to conflict zones and natural disasters. He is overseeing partnerships to quickly ramp up relief efforts in the Philippines. With over a decade of experience directing programs in war-torn regions including the Balkans, Afghanistan and Pakistan, he's most recently focused on our work helping millions of Syrian refugees in Jordan and Lebanon.

Mugur Dumitrache, Emergency Water and Sanitation Leader

Mugur has stepped into the aftermath of dozens of disasters — including Myanmar's Cyclone Nargis, Indonesia's West Sumatra earthquake, and the earthquake in Haiti — with engineering expertise to get water where there is none. In the Philippines, he will once again address the need for clean water and quickly identify solutions to prevent the spread of illness.

Greg Shortreed, Director of Procurement and Logistics

Greg Shortreed oversees the "how" and "what" behind Mercy Corps' response — and will be on the front lines in this emergency sourcing lifesaving relief supplies. His work is key to coordinate with other relief organizations and make sure transportation is effective at reaching families in areas that have been cut off in the aftermath of the typhoon.

Cassandra Nelson, Emergency Team Communications

Cassandra Nelson has been deployed to numerous emergencies, including the Haiti earthquake, Horn of Africa and Sahel hunger crises, the Sudanese civil war, and most recently the Syria refugee crisis. She will report on the situation on the ground and meet with survivors to hear their stories and document their needs.
Several members of our Indonesia Response Team are also deploying to the Philippines. Nearly every year, they respond to floods, storms and other crises in disaster-prone Indonesia.
The team now consists of about 10 experienced responders and will likely double by next week and continue to grow as we shift from emergency relief to recovery in the coming months.