Syrian farmers sow seeds of hope in Mercy Corps' agriculture program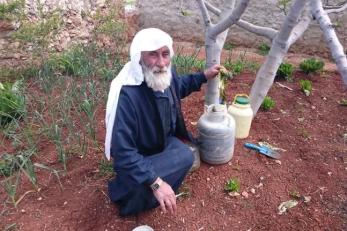 April 24, 2017
The six-year war in Syria has killed nearly 500,000 people, uprooted half of the country's population and blighted the economic mainstay of agriculture in one of the world's earliest centers of farming. Mercy Corps has stepped in to help farmers feed their communities again and give displaced persons the means to raise their own food.
Mercy Corps' Food Security and Livelihood program has supported some 9,000 farmers and small gardeners since the start of 2015. Last month, its team of eight agronomists helped farmers finish another planting season in northern Syria, this country's ancient breadbasket.
Archaeologists say an agrarian civilization has thrived in this region for more than 12,000 years. In modern times, farming provided a quarter of Syria's economic output and employed a quarter of its workforce.
But the outbreak of the Syrian war in 2011 has destroyed infrastructure, such as irrigation canals and grain silos, and crippled a state system that once provided farmers with seeds and purchased their crops. A sustained drought has only exacerbated the humanitarian crisis.
Get the quick facts on the Syria crisis ▸
Now, Mercy Corps is providing training and technical support to farmers to increase yields so that they can sell their surplus in the local markets, as well as lay the groundwork for reviving this millennia-old vocation so that once the war ends, Syrians can return to farming their land.
"The most important thing we can do now is build the resilience of Syrians' households to help them cope with the shock of the conflict inside Syria," said Sarah Castagnola, Mercy Corps' acting Food Security and Livelihoods manager. "We want to help families stand on their own, to find new sources of income or to return to their occupations."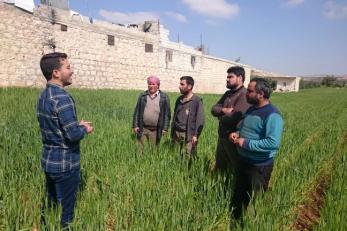 Mercy Corps' agricultural assistance, which serves areas including Daret Azza, Atareb, Tall Ed-Daman, Zerbah in Aleppo governorate and Abu Thuhur in Idlib governorate, is two-fold: providing kitchen garden kits to families to improve food security for households and helping farmers with seeds and fertilizer so they can generate income and feed their neighbors.
"Food baskets and emergency relief cannot last forever. Communities should be starting their own businesses, to meet their food needs and eventually other needs, like medicine. We are helping those people stand on their own, to start to generate their own income or return to their former occupation," said Rami Abu Hashim Assad, a Mercy Corps agriculture field officer.
Strategic crops
"We focus on the most strategic crops in Syria, such as wheat, as it is the base for flour to make bread, to underpin food security," said Assad.
Hasan Mohammad Al-Mohammad, 45, lives on a farm in the village of Rasem Al-Joud, south of Aleppo, with eight other members of his family. The two hectares of land he cultivates are emerald green after good winter rain.
During the last dry season in October 2016, he was able to procure good quality barley and wheat seeds from Mercy Corps' seed-distribution program. Barley is the main feed for Mohammad's livestock, which in turn produce milk and meat for the family. His soft wheat is baked into bread for local bakeries, a staple of the Syrian diet.
The seeds Mohammed received from Mercy Corps are all locally procured. Native legume and wheat varieties, which are adapted to the Syrian environment and are drought- and disease-resistant, have made it easier for farmers who would otherwise struggle to cultivate a new variety.
This spring, Mohammad turned to Mercy Corps for urea fertilizers that he would otherwise be unable to afford as prices soar. Fertilizer, which was previously produced locally, must now be imported due to disruptions in the market during the conflict.
Coupled with farmers' reduced income, the cost has become prohibitive, prompting Mercy Corps to supply farmers with the material to boost harvests.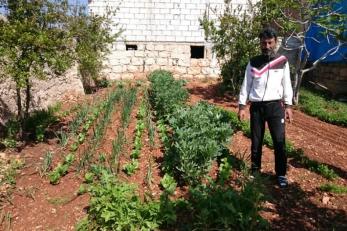 Planning for future harvests includes training farmers with the latest technology, even those like Mohammed who have decades of experience.
"We focus on new ideas, introducing scientific advances and discoveries. We encourage the farmer to discuss how he will manage his crop. For instance, the first step in controlling disease or an infestation is to recognize it, which is something our team can help with," said Abdulmughith Saleh, an agriculture field officer.
But the support goes beyond just introducing best practices. After the psychological toll of six years of war, farmers describe a sense of relief from Mercy Corps' frequent visits and monitoring, Mercy Corps staff said.
"This helps farmers start to think about their future, to have more confidence. 'I can see the next year ahead of me,' they say," said Hasan Ibrahim, an agriculture field assistant with Mercy Corps.
Kitchen gardens

For smaller-scale farming, Mercy Corps' kitchen garden kits include seeds and seedlings, fertilizer and basic tools to help families plant small allotments for their own consumption. Vegetable seeds are seasonal, so they are able to raise food in both the summer and winter months.
Azra Alhosain, 31, and her four children were displaced from Aleppo as the battle there intensified, and sought shelter in a former school in the countryside north of Aleppo. With her husband away, her only source of income came from manual labor in nearby fields. But the work piqued her interest in farming.
Mercy Corps provided her with material to start a kitchen garden and advice on how to maintain it, including managing fertilization and pest control. Alhosain purchased natural manure and planted seeds and now tends her garden daily.
"I am very interested in gardening, because this is how we will get our vegetables, which are very expensive in the markets," she said. "We hope to get these vegetables every season to feed our children."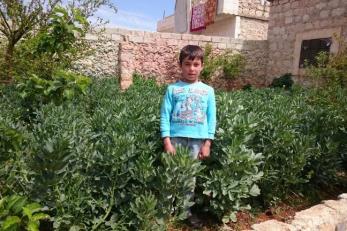 A lifelong Aleppian, Mahmoud Abdulraheem Hamsho, 54, had never farmed before. But he was left both homeless and jobless after he was forced to flee Aleppo for the village of Daret Azza. Unable to afford ever-more expensive food at the market, Hamsho registered at the local council when he heard about Mercy Corps' program to equip and teach gardeners.
Hamsho attended training sessions in the micro-garden project organized by Mercy Corps staff, receiving seeds and farming tools. Suddenly, Hamsho had a new occupation.
"This is an opportunity to try a new job and a new way of living — to eat from what you farm," he said.
Mercy Corps plans to eventually expand into animal husbandry, providing vocational training for breeders to raise sheep and goats and assist them with feed and forage. Courses will include instruction on cheesemaking and food preservation.
"We see that people return to areas that are relatively stable, even though the war is not over. We want to make sure they don't just come back to devastation, but that there is a foundation in place for them to build upon," said Castagnola.
Help us provide even more support to families in crisis around the world.
Ask your friends to contribute to our effort to help families survive, recover and rebuild.