Stories from Yemen: Worried mothers, sick children and the community health workers helping them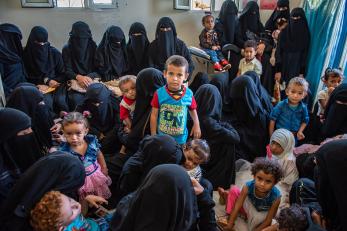 April 05, 2019
Caring for malnourished infants.
Assisting sick and disabled children.
Working to bring any sense of relief to a family during unimaginable crisis.
This is just the beginning of what Siham does every day to serve her community in Yemen as it continues to face humanitarian, economic and political crises resulting from years of ongoing conflict.
Siham, 32
Siham has been a community health worker with Mercy Corps since last May. She works at a malnutrition clinic in Mahweet, assisting mothers and children as their community continues to suffer from increased cases of malnutrition caused by decreased access to food.
Siham's community isn't the only one facing crisis. Since 2014, Yemen has been at the center of a large-scale humanitarian crisis, stemming from a civil war between the Yemeni government and non-government forces. This civil war has impacted almost every aspect of life in Yemen and has left thousands of families without jobs, homes or enough food to eat, resulting in mass malnutrition.
Malnutrition is the single largest contributor to disease in the world. By weakening the immune system, malnutrition makes it harder to fight off otherwise preventable diseases. Hunger not only weakens the ability to fight off preventable diseases, but also increases susceptibility to fatal diseases like cholera. This is especially detrimental for already vulnerable populations in the community, including young children, the elderly and pregnant women.
"In my community, there are a lot of [severe acute malnutrition] cases and we work through the whole region and do transfer cases," Siham says. "The general conditions are bad; the people have nothing. We are facing a lot of difficulties [with] malnourished mothers. We need support for them."
Siham is 37 years old and a mother, which is something she uses to establish trust when she is providing assistance to other mothers who are trying to get healthcare for their hungry, sick or disabled children. Talking mother-to-mother, as opposed to doctor-to-mother, instills an immediate bond that makes the process easier.
"It's easier to talk from a mother to a mother in my job. We have a better connection. Better communication. As mothers we know what it feels like," Siham says.
Siham is originally from Mahweet and has a personal understanding of the impact that years of conflict have had on the health of her community.
"There are a lot of cases of malnutrition in this community. The shocking thing is that there are a lot of malnourished mothers," Siham says. "We hope that they will get better soon. This could be achieved through close follow up, and we supervise the treatment of these cases. There is a lot of unemployment and shortage of food and people have no money. This makes us disappointed."
Shamia, 35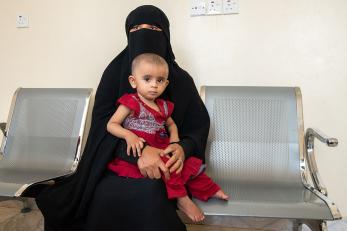 Siham works in the community health clinic and also makes house calls. Shamia, 35, is one of the women Siham visits at her home. She lives 30 minutes away from the clinic with her 11-month-old daughter, Mira, and her six other children.
Before the war, Shamia's husband used to go Saudi Arabia for work and support their family of eight, but after the war started, he was no longer able to travel.
The war has impacted Shamia's family greatly. They don't have enough food to eat and they often resort to skipping meals or asking neighbors for food.
When Shamia met Siham, Mira was suffering from acute malnutrition. Her state was getting worse with the development of a chest infection, and Siham informed Shamia that Mira needed to be transferred to the Mahweet community health clinic. She had to get help. Fast.
There was one problem: Shamia couldn't afford to get Mira to the clinic. Her husband was unable to travel to work and her family was already going hungry.
Mercy Corps was able to transfer Mira to the Mahweet clinic at no expense to Shamia or her family. While Mira was receiving treatment, Shamia received key health and nutrition education from Siham.
"And [after Mira was transferred to the clinic] she visits me and talks to me about hygiene and how I should breastfeed my baby and how important it is to do breast-feeding until six months of age. I should use cereals, carrots, apples in my kids meals," Shamia says.
Shamia and Siham became close while Mira was in treatment. They still talk a lot, Shamia says. She's extremely grateful for what Siham was able to do for her and her family.
"I really would love to see a lot of thanks for Siham who has helped me a lot. Also the staff of the health facility, I thank them a lot. Siham did a lot of work, she visited me many times, she provided me with the supplements and my kid has gotten better after I transferred her here to Mahweet."
Shamia is more hopeful now that her daughter has received treatment for her malnutrition and her children are eating healthier food. She wants her children to get a good education, to be literate and able to give back to their communities. In fact, she hopes Mira will grow up to be a doctor one day.
Aicha, 32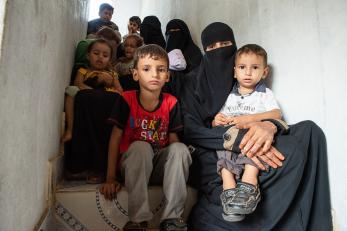 Aicha has four sons. One 12-year-old, one 10-year-old, one 6-year-old and Mahyoub, who's 1 year and 10 months old.
Mahyoub was sick, but he isn't today. Aicha has been taking Mahyoub to the clinic since she and her family moved from the port city of Hodeidah to Mahweet to escape violence, airstrikes and bombings.
"It's really difficult. It's catastrophic. There were a lot of airstrikes. I was hearing airstrikes and bombing and I was hearing about kidnapping," Aicha says.
Her sons got scared when they heard the sounds of planes flying overhead, never knowing what would come next.
Aicha and her husband, a day laborer, had to borrow the money to move to Mahweet and make it to their parents' house. Aicha and her family have been in Mahweet for months and still do not have a house of their own.
Things quickly took a turn once Aicha and her family arrived to Mahweet. Her husband was arrested shortly after their arrival and she hasn't seen him in three months.
Her children are sick and malnourished. Her 6-year-old son, Anas, is suffering from a sore throat today. With her husband gone, money is even tighter. She can't afford food or water for her children.
Aicha hopes to one day have enough money to feed her sons and provide for them on her own.
"I hope that I can provide my kids with everything they need, especially after their father is not around," Aicha says.
Her family is in dire need of help. When asked what she needed most, she responded with one word: "everything."
Fawzia, 27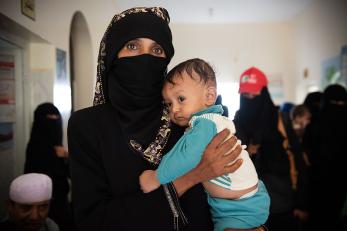 All four of Fawzia's children are sick, including her 9-month-old son, Mohamed.
Mohamed was getting increasingly ill when Fawzia met Siham. He was suffering from fevers and diarrhea when his mother learned about the community health clinic for the first time.
With the help of the clinic, Fawzia was able to get the help she needed. She now had access to key information on how to raise a healthy family during the ongoing crisis ⁠— something she didn't have before.
"They provided us with the awareness sessions, and taught us how to wash our hands, how to feed our baby, and then [Mohamed] started really getting better," Fawzia says.
She also received emergency food and medication, which helped Mohamed overcome his illness.
Fawzia's husband is a laborer and like many people in Yemen, has had limited work opportunities as a result of the ongoing conflict. As a result, there isn't enough money to feed her family. She and her husband have to borrow money from neighbors if there isn't enough.
Taking care of her children is Fawzia's greatest worry. She worries about the consequences of not being able to afford basic necessities like food, clothes and medical care. Without those essentials, her growing children face consequences. If her children get sick, they stay sick.
"Actually feeding my kids, giving them the clothes they need. I cannot even afford to give them some juice. If one of my kids get sick, I cannot even afford to take him to the hospital, for example if he's complaining of diarrhea," Fawzia says.
Fawzia wants a better future for her family and for her children to "have better things." Most importantly, she wants a better future for all of Yemen.
"I hope that things get better, that prices get lower, and for a better secure situation for all Yemen," Fawzia says.
Siham and Mouna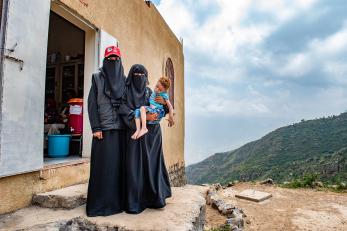 Siham spends her days helping family after family as her community continues to be rocked by ongoing crisis and conflict.
According to Mouna, another community health worker, between 3,000 and 4,000 people from six villages count on the community health clinic for affordable care.
Every day, Siham, Mouna and more community health workers like them, work to raise awareness, provide care and bring a sense of relief to families experiencing unimaginable crisis. Families much like their own.
While there are other clinics in Yemen that provide treatment for other health concerns and illnesses like cholera, the primary focus of Siham and Mouna's clinic is malnutrition. The increasing number of malnutrition cases is impacting more than just vulnerable populations, it's affecting everyone.
"Our community needs your help," Mouna says. "Because of the war there are a lot of malnourishment cases, even the mothers are suffering from malnutrition."
Help us provide even more support to Yemeni families and people in crisis around the world.