Water, sanitation needs soar as South Sudan conflict persists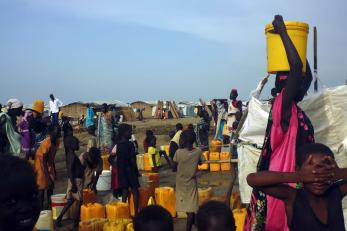 December 31, 2015
In Bentiu, South Sudan, weary families walk the long dirt road from the town toward the entrance gates of the U.N. compound that has become an improvised displacement site, carrying children, firewood, food, mattresses and anything else they have been able to buy or salvage on their journey.
More than 120,000 people are seeking refuge here from the violence that has engulfed towns and villages throughout South Sudan, a consequence of the grisly civil war that has plagued the country since December 2013 and displaced more than 2 million people.
Quick facts: What you need to know about the South Sudan crisis ▸
Bentiu, the capital city of oil-rich Unity State, has suffered enduring, heavy warfare over the course of the conflict. And despite a peace agreement signed in August 2015 — and at least seven others since the start of the crisis — a recent surge in fighting between government and opposition forces in the area has prompted a fresh wave of people to flee to the relative safety of the Bentiu site.
Safe haven still has risks
Desperate families often walk for weeks to reach the site — there is no other place nearby that offers armed protection to those who have been displaced by the violence. The journey is dangerous, and even when they arrive they face a weighty set of challenges.
The site's population has more than doubled since April 2015, and water and sanitation infrastructure can't meet the demand of the site's growing number of residents.
Areas of dirty, stagnant water are common, and plastic tents offer little protection from the hot, dry winters and stormy summers. The risk of contracting cholera, hepatitis and malaria is tremendous; the World Health Organization calls the crisis in South Sudan one of the worst health emergencies in the world.
The Bentiu U.N. compound simply was not meant to be a long-term displacement site. But persistent, unpredictable clashes and a growing displaced population in the region make it critical we continue to help its residents meet their basic needs and survive. Learn more about life in the Bentiu displacement site ▸
Healthy habits key to safety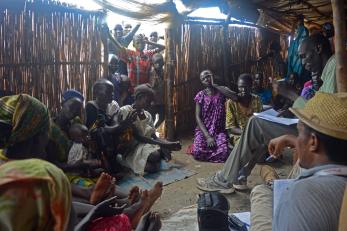 Mercy Corps is improving the site's water and sanitation facilities by leading garbage collection and building essentials like latrines, water points and handwashing stations. Additionally, our hygiene promotion program helps residents adjust to life in the site, educating them about important hygiene practices they should use to protect themselves from disease.
We hire residents to become hygiene promoters and train them to organize information sharing sessions — proper handwashing, latrine use, water storage, childcare practices — for other residents. Using megaphones, they rally the community and work to promote healthy messages using the site's "radio" system, a network of mobile speakers.
The hygiene promoters also conduct follow-up, door-to-door visits with residents to discuss home sanitation and personal hygiene.
Women, who make up more than half the site's population, particularly benefit from this directive. They learn to keep children's nails short, clean cooking utensils of germs and cover water to guard it from disease-carrying insects. This helps them keep their homes and families safe in the camp's derelict conditions, and teaches them the hygiene practices that will keep them healthy for the long-term.
Lifestyle changes essential for survival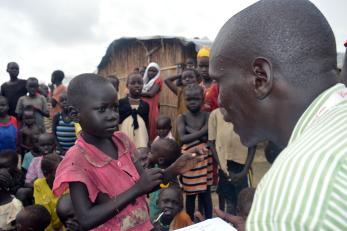 There are also special hygiene classes for children, which use songs and rhymes to help them learn lessons like proper handwashing, avoiding playing in dirty water, and how to use the site's child-friendly latrines.
They may seem like simple messages, but they are essential to preventing the spread of deadly disease within the confines of the camp, which is becoming home to more families every day. We must give its already-vulnerable residents a sanitary environment to live safely and maintain their dignity.
"It has been hard to adjust to the way of live here," says one resident. "In our village we follow traditional customs and go to the toilet in the bush, far away from our homes. Here [in the camp] we need to use the latrines if we are to keep the areas around our homes free of infection and disease, as there is nowhere else to go."
As violence continues, so does uncertainty
While residents will occasionally move out of the site and return to their villages to check on their homes, try to make contact with family members or recover more items if they have no means of income inside the camp, it is all too common for them to be driven back to the site when fighting resumes again. Read about one staffer's experience escaping violence in Bentiu ▸
Families in this region are in a constant state of uncertainty — and they have been for two years. And the ongoing volatility and extreme safety concerns continue to force civilians to safer — but also crowded and insufficient — spaces like the Bentiu displacement site.
The residents of the camp have left everything behind aside from what they have been able to carry on their backs, and they are uncertain of when they will be able to return to their former way of life. Many have already lived on the site for over a year.
Until families return home for good, water, hygiene and sanitation services must be implemented and improved to ensure the health and dignity of these already at-risk populations.
Help us provide even more assistance and support to families in need.
Ask your friends and family to help us reach more families facing hunger around the world.