For refugees fleeing, it's a long road to safety
September 27, 2016
The insurgents had surrounded her village. Armed fighters were rushing toward them, filling the air with bullets and killing indiscriminately. Nearby homes went up in flames with families still inside them.
Adama had to make a split-second decision: Stay and pray the violence spared her family, or take her nine children and run.
She decided they had to flee. She couldn't know what awaited them on the passage ahead — exhaustion, snakes, crippling hunger — but the risk of staying in her Nigerian village was just too great.
Thousands of parents caught in conflict across the globe are faced with this impossible dilemma every day: While it's not safe to stay, leaving is the start of a treacherous journey just the same. It's one filled with hazards that can be nearly equal to those they are trying to escape.
"The thing we need to understand first, when you become a refugee, you don't have a choice at all," says Babar Baloch, a spokesperson for the United Nations' refugee agency (UNHCR). "Your only way to survive is to run for your life, and that run, or that journey … could be long and dangerous as well."
"If home was safe, no one would have left."
Escape from terror in Nigeria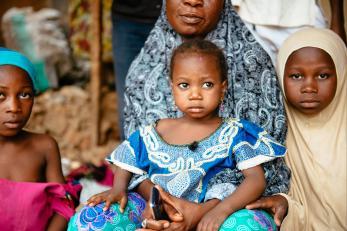 Boko Haram, one of the world's deadliest terrorist groups, had been pressing in on Adama's village in northeast Nigeria for months. Despite the constant gunfire in the distance, she held fast to her home for as long as she could.
"We stayed," she says, "until that fateful day they entered our own village. They were burning our houses. One of the insurgents … shot my husband. They killed him."
Terrified for her family, Adama grabbed her children, fled into the bush and didn't look back. But the journey for their lives had just begun.
"When we were running, we didn't bring anything, not even a spoon, apart from the clothes we were wearing," Adama says.
Soon, they passed dead bodies, many of them. Children collapsed, dehydrated by the excruciatingly hot sun. Others trying to make the same escape were bitten by snakes or too exhausted to continue.
"[People] got tired, they were thirsty and hungry," Adama remembers. "They could not continue with the trekking. They had to just stay behind."
Finding safety is not an easy task in volatile Boko Haram territory: Fear is widespread, and communities often refuse to allow new settlers on suspicion they could be insurgents. Though they were fearful, exhausted and desperate, Adama and her family were turned away several times.
"People were scared of us," she says. "We had to disguise ourselves [and] not mention where we were coming from. … They were afraid to accept us."
Adama managed to keep her nine children walking until, after 12 hours, they found a village that would take them in. While they have found relative safety, Adama's struggles aren't finished. After everything she's already been through, now she has to start over.
Around the world, families risk everything for safety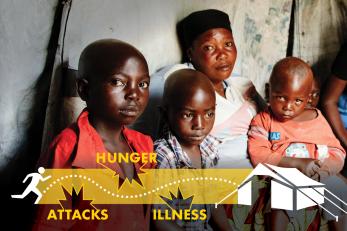 Families in eastern Democratic Republic of Congo (DRC) are also subject to the terror of armed groups. There are dozens of them, says Andreas Kirchhof, a UNHCR representative in DRC, which keep families in the region constantly on edge.
"It's very difficult, even for people who live here to understand and keep track, because some of the groups split or they engage in new alliances," he says. "In terms of who's who it's very difficult and complex, but the armed groups share one common characteristic: They show no mercy toward civilians and often they live from pillaging the civilian population."
Mapendo was about to give birth to her sixth child when one militant group attacked her village. Unable to walk the long distance to safety, she stayed behind with her family even as her neighbors fled around her.
They endured the group's assaults for weeks. But when the militants kidnapped and killed her husband, just one day after Mapendo gave birth, she made the painful decision to leave. Her family was in too much danger.
"I have children, so I had to choose between carrying things and taking my children," she says. "I chose to leave everything and go with the children alone."
Mapendo, still bleeding from her labor, carried her little ones through the bush, with little food or water. "We spent our nights in terrible conditions," she says. "We were sick and malnourished, [and in] poor health conditions."
They walked for 238 miles before finding a place to take refuge. And then another militant attack sent them running again.
Eventually, Mapendo settled her family in Bulengo displacement camp on the outskirts of Goma, where she is fighting to rebuild their life amid continued instability. Conflict still plagues the countryside around her.
"It's a climate of constant insecurity," Kirchhof says. "Many people have to flee several times in their lives, unfortunately."
"It's like everywhere in the world. Parents want to protect their children. If you are between an armed group and the army is approaching, and you know you will be caught in the middle, you flee to protect your children."
After nearly three years of war in South Sudan, thousands of parents have gone into hiding with their children deep in the bush, where they are forced to survive on roots and water lilies.
Rukia, 30, remembers life as a 6-year-old, when her mother decided to take her chances against lions and hyenas to get her children out of violence-wracked Somalia.
"My mom realized we were either going to be killed or die there of hunger. We couldn't survive in Somalia," Rukia says. The family spent over a week trekking through the wilderness before reaching a refugee camp in Kenya.
Perhaps the most notorious risk families take is the dinghy ride across the Mediterranean Sea from Turkey to Greece, in a desperate attempt to escape protracted crises in the Middle East and resettle in Europe.
Almost 1.3 million people have made this journey since early 2015. But for these families, who come largely from Syria, Afghanistan and Iraq, the boat ride is only a small part of their escape from their conflict-ridden home countries.
Faced with war and grim future, no choice but to flee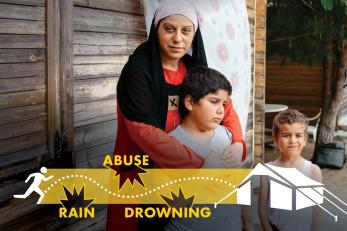 "I came from Syria to Turkey, and then to Greece. I suffered a lot," says Hoda, a mother of three. "Crossing the border from Syria to Turkey we crossed the hills, the muddy roads, we crossed the rivers. We didn't have any things. We stepped into Turkey barefoot, wet from the rain. We were threatened by the police several times.
"My children, they sat on the ground, started crying. They didn't want to continue. They didn't want to walk. But there was no other choice. We can't go back."
Hoda paid a smuggler to take her and her children across the border, but he took her money and ran. She paid again.
"Some people try several times, and it doesn't work," she says. "We were lucky that from the second time it was all a success."
According to Baloch, smugglers regularly subject desperate refugees to robbery, abuse, starvation and false promises. But they are often families' only option for traversing the unknown, precarious territory they're attempting to cross.
Hanan, another mother of three, was robbed and detained by the smugglers she paid before eventually being packed into a small, rubber dinghy bound for the shores of Greece.
"Our house [in Idlib, Syria] was destroyed in the war. That's when we decided to leave," she says. "We went to Aleppo and stayed there for a year, but there was no work, and there was also war going on in that area. There were no hospitals, no schools.
"It was horrible, and it wasn't a place where we could stay any longer. There's no safety. We decided to take the risk and move away … with the children."
The smugglers told Hanan the journey at sea would take an hour, but an hour into the terrifying ride, the boat stopped moving.
"People started panicking," she says. "People started standing on each other. Children were underneath people."
In the end, Hanan and her children were stranded on the boat for four and a half hours. By the time they got the engine started again, two people had been crushed to death and several others had broken bones.
Hanan's family is one of the lucky ones: They survived. Thousands of others have drowned trying to make the same journey.
Now, temporarily settled in Greece, both Hanan and Hoda are waiting to see what the future holds for their families. Like the millions of others displaced globally, they take each day's challenges as they come, stopping at nothing to feed, shelter and protect their children.
"I hope that my family will not have to do this again," Hanan says. "The most important thing is to be in a nice place, where my family can all live together. Where they have a stable life, a family life [and] security."
How we're helping
Mercy Corps works around the world to help refugees and displaced families survive crisis and recover for the long-term. In camps and communities in 22 countries, we help them meet their immediate needs like food, water and shelter; and provide cash so they can buy the things they urgently need to get by.
We build safe spaces to help kids heal and continue their development, we expand public resources in places where refugees are sheltering, and we implement educational and vocational programs so displaced people can get back on their feet and work toward peaceful, productive futures. 
Make a gift to support Mercy Corps' work in some of the world's toughest places.