Refugee families face uncertainty in Europe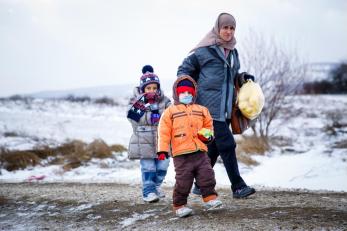 March 28, 2016
Right now, close to 12,000 refugees are crowded at Greece's border with Macedonia, waiting and hoping to be allowed safe passage as they flee towards the safety and promise of northern Europe.
Recently, the route north through the Balkans was officially closed — and now, refugees who flee across the sea risk being sent back as soon as they arrive. And so families already trapped in Greece wait, with children strapped to their backs and carrying few belongings, for a second chance at a more peaceful future.
Our team worked tirelessly all winter in Greece, Serbia and Macedonia to help refugee families keep moving forward — offering food, temporary shelter, winter supplies and critical information.
But now, the excitement and relief refugees felt in the fall has been replaced with uncertainty.
Refugee arrivals on the shores of Greece peaked last summer, when approximately 10,000 refugees — from Syria, Iraq, Afghanistan, Pakistan, and as far as Eritrea — were making the dangerous journey across the Mediterranean Sea and into Europe every day.
More than 1 million refugees arrived in Europe by sea in 2015. Another 144,000 have already arrived in 2016.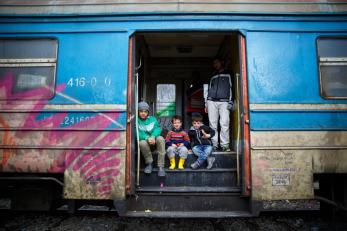 Facing uncertainty and a journey through cold and potentially snowy conditions, fewer refugees are making the trip — but they are still coming — with some 2,500 arriving on Greece's islands, exhausted and weary, every day.
Many refugees feel that they have no choice. After five years of war in Syria, and pockets of conflict and violence in nearby Iraq and Afghanistan, there is little hope for a family trying to survive or a mother caring for her young children.
So each day, families board tiny rubber boats, crowded with dozens of other refugees — most wearing counterfeit lifejackets — and hope that they make it across alive.
The refugee route: A grueling journey
While the trip across the sea is daunting and dangerous, it was just the beginning for refugees who were trying to make it all the way to Germany or Scandinavia. After taking a ferry to Greece's mainland, refugees had to pass through Macedonia, Serbia, Croatia, Slovenia or Hungary, and Austria before they reach Germany, where many refugees hope to stay and build a new life.
Most of this grueling journey was spent on the move — boarding trains in the middle of the night, crowding onto buses, and walking across rough terrain just to get to the next stop. There's little time for rest. Refugee families only spent a matter of hours, or a day or two at most, passing through countries like Macedonia and Serbia. And the conditions were often treacherous.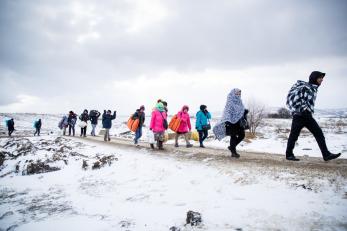 At the border between Macedonia and Serbia, refugees had to walk approximately one and a half miles across a barren field, carrying whatever they brought with them. Because it's a border crossing, organizations like Mercy Corps were only allowed to help people on either side. Refugees had to make the walk between by themselves.
Late last year, the field was pounded by heavy rains, and the path turned to knee-deep mud. Come January, the mud froze and was covered by a layer of snow. The winter weather here takes no mercy on those passing through.
Mercy Corps has been working along the refugee route from Greece to Croatia since last fall, helping people continue forward on their journey as safely as possible. In Macedonia and Serbia, it was a skeleton team. Once only three dedicated staff, the team grew to a small but mighty group of seven.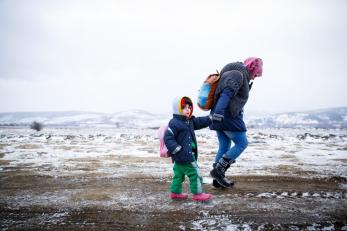 Near the border, on either side, staff offered information, translation services, and assistance with transportation, particularly for the disabled or elderly. Signage in the area is sparse, and not often translated into Arabic or other languages. Family members were sometimes separated, and our team worked to reunite them as quickly as possible.
To help stave off exhaustion and the brutal winter temperatures, we also ran temporary shelters that offered heaters and safe spaces for families to rest before they continued on towards northern Europe.
"There is no life in Iraq and Syria …"
The trip was difficult enough for most, but it seemed impossible at times for pregnant women with small children, the elderly and people with disabilities.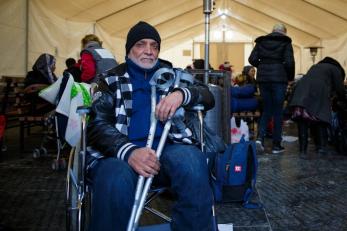 Khalid, 55, is originally from Baghdad and needs a wheelchair to get around. When the war in Iraq erupted years ago, he and his family fled to Syria. But the violence in Syria was too much to bear, so Khalid and his son became refugees for a second time as they escaped Syria to make the journey towards Europe.
"We left Syria because of the war. There is no life in Iraq and Syria so we have to go somewhere else," said Khalid.
He was supposed to receive assistance so that his whole family could leave Syria, but the help never came.
Without enough money to bring his wife, Khalid and his son began the long trip, hoping that she'll be able to join them eventually. "We hope one day we will send money to her in Syria to bring her to Germany," he said.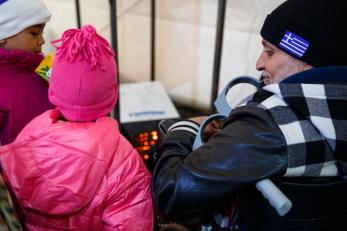 When Khalid and his son arrived by train to Tabanovce, Macedonia, they took some time to warm up and rest in a Mercy Corps shelter before our team helped transport them by van to the Serbian border. It was a difficult trip for Khalid, but it's the best choice he feels he can make for his family.
"The road to here was honestly a difficult part. The path to here was tiring. Very tiring," said Khalid. "It's hard traveling in a wheelchair because roads aren't made to accommodate a wheelchair — they're all rock or dirt. The road kept shaking under my chair, it was harder to be in the chair than to walk."
But Khalid perseveres — he knows that if they can make it to Germany, his son, who also has a disability, will have hope for a better life and a stronger future.
"My son needs a major surgery. He was born with a defect. He can't see with his right eye, and can't breathe on the right side," said Khalid. "We're hoping he can have this surgery in Germany. There aren't any doctors who can help in Syria."
A small, but mighty team helps refugees
Our staff members in Macedonia and Serbia worked day and night all winter to help refugees like Khalid continue forward. One of those dedicated team members is Kusang Tamang, who left his position in Nepal for a few months to join the effort in the Balkans.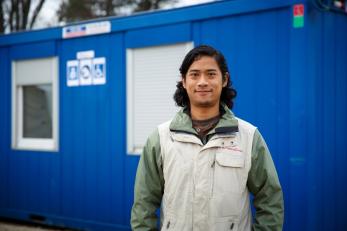 In an emergency situation like the refugee crisis, things can get hectic. "When I first came here I was doing everything, and we didn't have shifts," Tamang said. "I would be working in the morning and at night. It could be on the Macedonian side or on the Serbian side of the border."
Refugee trains arrived at all hours of the day, and through the night, so the team had to create shifts to make sure that they could help at any time. The normal shift was from 5 p.m. to 1 a.m., when the team determined there was the most need for assistance.
"But if there is a need, a lot of people coming through, we will work until 3:30 a.m.," said Tamang. "There was one time when one of our officers worked until 5:30 in the morning."
The team had one van on the Macedonian side of the border, and two on the Serbian side. They looked out for the most vulnerable individuals and offered help with transportation to the refugee processing centers, or to a temporary shelter for rest. "With one van the average is about 80 people that we transport in one shift," Tamang said.
Helping refugees like Khalid gave Tamang and the other team members a sense of purpose. They know how important it is to offer kindness and hope during such a difficult process. "The work is very rewarding," Tamang said. "It feels good at the end of the shift to know that you actually helped people, and to see that you are making a difference."
"What stands out to me is the people saying thank you. Because they have been abused, they have been harassed on their way here, and then when someone helps them, they really appreciate that."
Best solution: Solve the refugee crisis
Since September, our work along the refugee route in Greece, Macedonia and Serbia has reached approximately 80,000 people.
When refugees arrived in Greece this winter, our team there offered food, shelter, information, winter supplies and cash assistance to help them continue their journey. As they moved through the Balkans, Mercy Corps staff helped provide transportation, translation, information, shelter and more winter supplies if refugees needed them.
As refugees pushed on past the Balkans and to more hopeful futures in northern Europe, one thing became clear — despite incredible challenges, refugees will keep coming until the fighting stops.
"The best solution would be to resolve the conflict. I know — it's easy to say, hard to do," said Mercy Corps team member Kamil Qandil.
"Humanitarian assistance is needed, but it's not a solution. We can try to provide dignity and respect and support people, but the solution should be political. We can carry on with humanitarian assistance for as long as it is needed, but it does not resolve the source of the conflict."
Help us provide even more support to families in crisis around the world.
Ask your friends to contribute to our effort to help families survive, recover and rebuild.