There's more to peace than solving violent extremism
July 20, 2018
If we want to invest in a more peaceful world, we have to balance short and long term goals.
This week, the OECD released its 2018 States of Fragility Report, a massive report analyzing which countries are emerging from fragility and which are at risk of sliding into it. While some states have improved since the last report in 2016, others have become more fragile, including Libya, Tajikistan, Cameroon, Egypt and Pakistan.
The overall theme of the report is clear: much of the world is growing more fragile and lags behind the UN Sustainable Development Goals. If as a global community we are going to achieve these goals by 2030, we need to better address fragility.
I was invited to contribute to this year's report about what we've learned since 2016 about the connections between violence and fragility, especially with regard to violent extremism. While the last report emphasized how it was necessary to address all forms of violence to reduce fragility, there continues to be a disproportionate emphasis on Counterterrorism and Countering Violent Extremism programming compared to levels of actual risk.
According to the latest Small Arms Survey report on global levels of violence, of the 560,000 deaths in 2016, 18 percent were due to armed conflict. And of the 99,000 armed conflict-related deaths, only 26 percent were due to terrorism. At the same time, limited funds are allocated to other forms of conflict prevention and violence reduction, even though violent extremist groups emerge in areas with existing conflict, like Afghanistan, Syria, Iraq, Somalia and Yemen.
While it is critical to stop violent extremist groups and we need to increase stability in order for development interventions to take hold, this is only a Band-Aid; without addressing the root causes of conflict, these groups will likely re-emerge in some way. For example, while we had a strong military strategy to defeat ISIS in Iraq, addressing Sunni grievances that contributed to ISIS's emergence in the first place has not taken precedence in the reconstruction. Already there are reports of ISIS' reemergence in Iraq.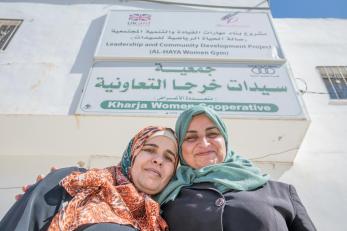 What do we know about what works to prevent conflict and reduce violence? In the Middle Belt of Nigeria, we have seen improved relationships between farmers and pastoralists through a combination of dialogue, mediation, and working together to address common problems. In Nigeria, participants in our program were 49 percent more likely to trust each other and 44 percent more likely to feel safe enough to travel in the area compared to communities that didn't receive these interventions.
In Afghanistan and Somalia, meanwhile, development interventions can reduce support for political violence. In Afghanistan, we saw that the combination of cash and vocational training reduced support for armed opposition groups by 17 percent. In Somaliland, those who were in school and participating in civic engagement activities were 13 percent less likely to use political violence and 20 percent less likely to support it. In South Central and Puntland, support for political violence dropped 65 percent.
In Somaliland, those who were in school and participating in civic engagement activities were 13 percent less likely to use political violence and 20 percent less likely to support it.
This evidence demands action. In this year's States of Fragility report, OECD says that if we are to tackle fragility we need to "step up efforts on prevention, peace and security" by dedicating more development assistance to conflict prevention and peacebuilding. That would mean more money for effective interventions like I described above. In the United States, new legislation — the Global Fragility and Violence Reduction Act — has already been introduced in Congress to identify and mitigate drivers of conflict. If enacted, this proposed whole-of-government initiative would prioritize programs focused on peace building, civilian protection and access to justice.
The world is experiencing a 25-year peak in violence. Development gains are at risk of reversing and fragility is increasing. To reverse these trends and reduce the violent extremism that policy makers are so concerned with, we need more investment in conflict prevention and peacebuilding programs that work.
Every contribution helps us provide lifesaving assistance around the world.
Help spread the word about the millions who need us.