Revolutionizing childbirth in remote villages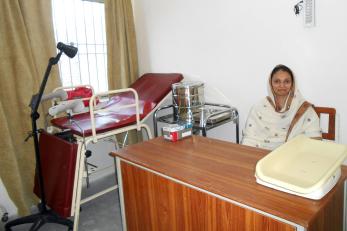 June 04, 2015
"I was inspired by the lecture my history teacher delivered about maternal health," says Zainab Umar, a community midwife in Balochistan province, in southwestern Pakistan. "I was determined to open a hospital or clinic in my village for maternal and neonatal care."
As a shy girl from a middle-class family, Zainab always dreamed of becoming a gynecologist so she could improve healthcare for women in her rural community.
Pakistan has one of the highest rates of maternal death in the world. And Pakistan's least-developed region, Balochistan province, where Zainab lives, has the highest rate in the country.
Poverty, lack of infrastructure and long distances between medical centers are just a few of the obstacles that prevent women in Balochistan's many rural communities from accessing proper, lifesaving maternal care. Mercy Corps is working to make childbirth safer in these remote areas by training local midwives and equipping them with the tools they need to provide skilled medical care for pregnant women in their villages.
While Zainab's plan to become a gynecologist changed after she graduated tenth grade — she was married and was not allowed to continue her education — she didn't give up on her dream to improve healthcare for women.
Several years after her marriage, she completed an 18-month community midwifery course offered through the Pakistani government. But, even when armed with professional training in midwifery, she struggled to serve her community because she lacked resources to begin her practice and market her skills.
Zainab's hope was renewed when she was recruited for a Mercy Corps program that offered a refresher course and business support for women in rural villages who had previously studied midwifery. Through the program, Zainab reestablished her skills in prenatal and newborn care, labor and delivery, infection prevention and coping with life-threatening emergencies.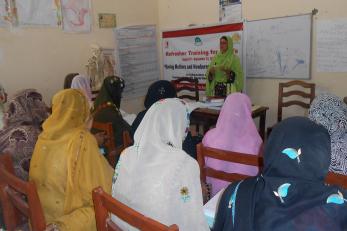 "Through the refresher course I had more than six-hour-long practical sessions every day and that gave me a lot of confidence in conducting deliveries independently and handling issues," says Zainab.
After she completed the refresher course, Mercy Corps provided her with all the necessary equipment and medicine to set up a midwifery workstation in her home. Graduates of the program received things like delivery tables and office furniture, sterilizers and medicine, tools for checking patients' temperature and blood pressure, and mobile delivery kits for in-home deliveries.
Now, as a newly-trained community midwife, Zainab is responsible for keeping pregnant women and new mothers in her village safe and healthy. She administers prenatal checkups, conducts deliveries, provides postnatal care, and councils mothers on nutrition and family planning.
Her professional services are a vast improvement to traditional pregnancy and childbirth conditions.
More than 80 percent of women in Balochistan give birth at home under the supervision of a traditional birth attendant — if they can reach one. Traditional birth attendants are most commonly elderly women from the community who have inherited the role, through the generations, from their mothers. They do not have equipment to provide prenatal checkups or conduct deliveries, nor are they trained to recognize danger signs or treat medical emergencies.
The absence of skills and equipment in traditional maternal care leaves mothers and babies at great risk of trauma or death during childbirth. But now Zainab is equipped to change that.
"I have my own maternity home now and I am confident to serve my community with my knowledge and skills," Zainab says. "I thank this project for helping me serve my people. I will not be distracted from my responsibility and I will sustain my workstation."
To ensure participants like Zainab are able to maintain their workstations and build successful livelihoods in midwifery, they were trained on business skills like marketing and bookkeeping, and they received smartphones that allow them to record medical data and send health reminders to their patients.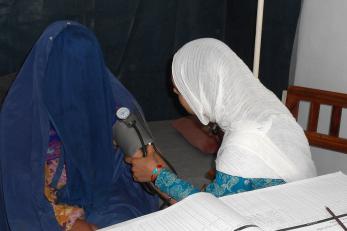 After training nearly 100 community midwives in rural areas, Mercy Corps is now focused on making sure pregnant women and mothers in these vulnerable communities know how to keep themselves healthy during pregnancy, including how vital it is to seek professional maternal care.
Throughout Balochistan, our community midwives partner with government healthcare workers to train influential women in rural villages about proper maternal health. As "leader mothers" the women are responsible for teaching other mothers and pregnant women in their communities about the things that will keep them safe during and after pregnancy.
Each month, the leader mothers reach nearly 30,000 women of reproductive age with maternal health lessons including proper nutrition, the importance of scheduling regular prenatal checkups, how to prepare for delivery and breastfeed a newborn.
Through this initiative, we're empowering vulnerable mothers and young women in Balochistan with the education required to protect themselves during pregnancy and childbirth. And knowledgeable women will pursue the type of care they need and deserve, giving skilled midwives like Zainab the opportunity to do what they've been trained to do — change and save the lives of pregnant women in their communities.