Introducing our new CEO, Tjada D'Oyen McKenna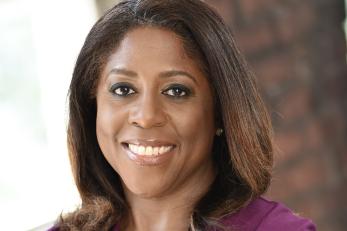 August 17, 2020
Mercy Corps is proud to introduce Tjada D'Oyen McKenna as our new Chief Executive Officer.
Tjada joins us from her current role as Chief Operating Officer (COO) for CARE, where she oversees the organization's programming and global operations. Previously the COO at Habitat for Humanity International, Tjada spent more than a decade working to end world hunger in roles with the Bill & Melinda Gates Foundation and the U.S. government. The self-proclaimed 'food security geek' also brings a passion for innovation--something she developed early in her career through various roles at McKinsey & Company, American Express and GE.
"Mercy Corps is rightly recognized around the globe for innovative, bold responses to the world's toughest challenges," Tjada says. "It's an honor to join this organization and in particular this remarkable global team of nearly 6,000 innovative leaders."
"We are absolutely thrilled to welcome Tjada," says Lucy Lee Helm, Board Director and co-chair of the CEO selection committee. "She has a proven track record of executive leadership, and in forging the kind of smart, comprehensive solutions that Mercy Corps champions. With stellar experience encompassing humanitarian relief and international development, at leading companies in the private sector and the highest levels of government, she's an exceptional leader for Mercy Corps' next chapter."
Tjada's appointment comes following a nearly eight-month global search, led by Board Directors Lucy Lee Helm and Kevin Ryan, which began with extensive listening tours with Mercy Corps teams around the world. "We wanted to be guided in our search by the Mercy Corps team, and what they saw as the most important qualities for our next CEO," Kevin says. "Their input was invaluable as we narrowed our candidate pool from more than 500 to our final shortlist. The depth, breadth and quality of the field of candidates was a testament to Mercy Corps' global reputation."
Tjada, her husband Joe and two young sons are currently based in Atlanta, Georgia. She starts her role with Mercy Corps on October 15, 2020.