Impact report: 30 days after Nepal earthquake
May 22, 2015
The earthquake
After a powerful 7.8 magnitude earthquake struck Nepal on April 25, killing thousands and causing massive destruction, our team on the ground immediately took action to help people in need.
Thanks to our 100+ staff in Nepal and support from more than 44,000 donors, we have been able to deliver emergency supply kits to some of the hardest-hit areas across the country in the last month.
Because of your compassionate response, our team began reaching people with relief kits just two days after the earthquake hit, and they will continue to help people recover and rebuild in the coming months.
Our response so far: Reached 43,910 people in 30 days
Immediately after the initial earthquake, our team rushed to procure supplies and put together emergency relief kits to help people survive and stay healthy in the days following the disaster. They were out delivering these kits to families in need just two days after the earthquake hit.
What:
Emergency supply kits including items like tarps, rope, cooking utensils, hygiene supplies, blankets, clothing, water purification liquid, water containers, sleeping mats and solar lamps.
Large tents for local schools and community groups so that children have a safe space to play.
Food items, including rice, oil, sugar and salt, provided in partnership with local groups.
Where:
Hard-hit areas across the country, including Gorkha, Lamjung, Dhading, Kathmandu, Lalitpur, and Bhaktapur.
Our teams have also focused on reaching "invisible" villages that were overlooked by initial aid efforts.
How:
Mercy Corps staff completed rapid assessments immediately after the earthquake to determine the most urgent needs and communities not yet reached with assistance.
We compiled kits for survivors based on their specific needs and reached villages by car and helicopter.
We purchase emergency supplies through local vendors whenever possible to support the local economy.
Impact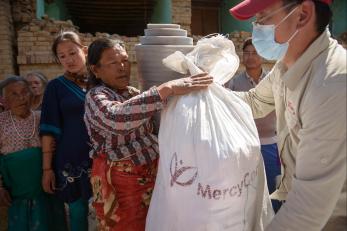 Many of the people we've reached over the last month lost their homes during the earthquake and are now sleeping outside or in crowded makeshift shelters.
The emergency supply kits we were able to provide are helping 31,400 people stay warm, safe and healthy during this difficult time. An additional 12,510 people received emergency food, delivered by a local partner on the ground.
Meet just a few of the people we've helped below, and learn why each item in our emergency kits is important.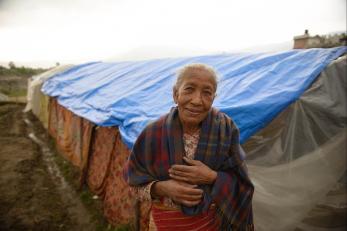 Emergency supplies: Premmaya and her 20 family members are all sleeping in one tent after the earthquake damaged their three separate homes.
The blankets and clothing in the emergency kit keep families like hers warm and comfortable, and the kitchen items ensure that they can safely cook the food they have on hand.
Water: Radhika and her mother-in-law are living in a chicken coop with 17 other families in their small village. They get water from a nearby tap, but it's not safe to drink.
Just a small amount of the water purification liquid included in our emergency kits will purify a large jerry can of water, making it safe for them to use for drinking, cooking or bathing.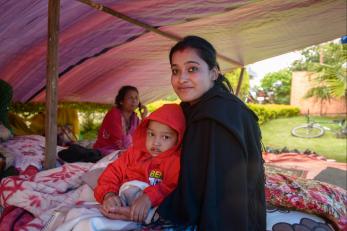 Shelter: Yashoda and her young son Amir sought shelter outside the Mercy Corps office in Kathmandu just after the earthquake destroyed their home.
With tarps, rope and sleeping mats from our emergency kits, families can create a temporary shelter that will protect them from the elements and offer a safer place to sleep.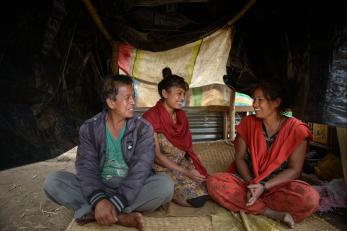 Hygiene: Durga (right) and her family lost their home in the earthquake, and now they are sleeping under a tarp from the emergency kit they received until they can rebuild.
For families sleeping and living outside, hygiene supplies ensure that they can stay healthy and maintain a sense of dignity, despite the difficult situation. Our kits include essentials like soap, towels, combs, laundry detergent and feminine hygiene products.
What's next?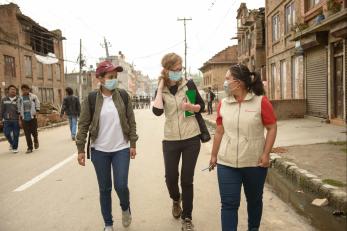 In the next few weeks, our team in Nepal will reach an additional 75,000 people with emergency supply kits. These families will also each receive $75 in cash to use in local markets to buy whatever they need most for recovery.
We will also deliver 600 large tents to local schools and community centers. With the rainy season approaching and many buildings destroyed, these tents will allow teachers to resume classes and give children a safe space to play.
As our team continues to address the most urgent needs after the disaster, they are also looking ahead to how we can help the people of Nepal recover and build back stronger.
Looking ahead: Challenges and solutions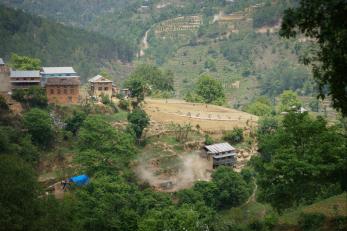 Cash: Stimulating the economy will be critical to Nepal's long-term recovery. Knowing this, we will transition our response from delivering emergency kits to offering families cash that they can then use to purchase what they need most through local markets. This helps shop owners get back on their feet, and also gives families the power to prioritize their own needs.
Water and sanitation: Damage to water facilities has been mixed — some places have fully-functioning water pipes, while others have suffered serious damage and cracking. Our experts are in the field to assess conditions, and we anticipate working to improve facilities near schools and other community buildings in the coming months.
Shelter: More than 500,000 homes were destroyed or damaged during the initial earthquake and large aftershocks, so temporary shelter will continue to be a large concern for survivors. We will deliver 15,000 additional tarps to people in need in the next few weeks, and we are also considering how we can support safe rebuilding.
Potential flooding: The traditional monsoon season is only a few weeks away, and we are concerned about further damage due to mudslides and potential flooding. Our team has extensive experience training people in the western part of the country to identify disaster risks and build natural flood protections. We are prepared to now work in earthquake-affected areas to help villages recover and better-prepare for future disasters.
Agriculture: Approximately 80-percent of households in the most severely affected areas rely on small farming to earn a living. Based on initial assessments, we've seen that much of this farmland has been destroyed. As the harvest and replanting season quickly approaches, we will work to make sure that the seeds, tools and supplies are available in local markets, and that families are able to purchase them.
Thank you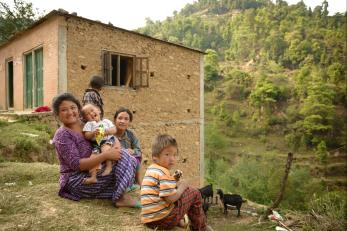 Our response to this disaster would not be possible without your dedicated support. Because of you, our team was able to immediately respond to the needs of people affected by the earthquake and the massive damage it caused.
This support gave us the flexibility to adjust to changing conditions and provide families with the items that they told us were most needed. Thank you for helping the people of Nepal as they look to rebuild their lives.
Support our emergency response efforts to crises around the world.
The more people who come together to help, the more people we can reach.