Preparing emergency relief after severe flooding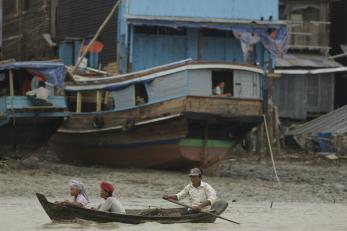 August 05, 2015
UPDATE August 13: In collaboration with local authorities, our team on the ground conducted an assessment in the Lay Myatnar Township of damage from the recent flooding. They determined that more than 5,000 families in the area have been affected, and 3,500 acres of rice fields have been destroyed.
In response to urgent need, our team is preparing to distribute emergency relief kits to affected families in the area. We will also provide rice seeds to local farmers to help them in their replanting efforts.
---
Monsoon rains in Myanmar have triggered severe flooding. About 250,000 people have been affected by the floods, and 69 have been killed. Mercy Corps is closely monitoring the flooding situation in Myanmar and assessing needs to determine how we can best support emergency relief efforts.
As with many other natural disasters, we anticipate that people's most pressing needs will be clean water, sanitation, temporary shelter and other basic essentials.
Four areas of the country have now been declared disaster zones. Floodwaters from the northern area of the country are beginning to flow into the low-lying Ayeyarwady delta region in the southwest.
More than 500,000 acres of farmland have been inundated with pounding rain since June. The country is largely focused on agriculture, and we expect that the loss of stored grains and livestock due to flooding may disrupt the upcoming planting season.
Myanmar is one of the poorest countries in Asia. Because the economy is heavily reliant on agriculture, the country is vulnerable to drought, floods and tropical cyclones — and much of the population lacks a secure food supply.
The development of rural areas — where 70-percent of people live — has been hindered by lack of access to financial services and increasingly frequent and severe natural disasters. Resources are scarce, and services like electricity are few and far between.
Our team will assess the needs of people suffering after the recent flooding and determine how we can best support the urgent needs of communities in Myanmar, as well as their long-term recovery.
Mercy Corps has worked in Myanmar since 2008, when devastating Cyclone Nargis killed nearly 140,000 people. With 140 team members on the ground, our work connects smallholder farmers and local communities to the resources they need to increase economic opportunity, improve access to energy and mitigate local conflict.
Mercy Corps has responded to almost every global emergency in the past 20 years, including Typhoon Haiyan in the Philippines (2013), the Japan earthquake and tsunami (2011), the Horn of Africa drought and hunger crisis (2010) and the Kashmir earthquake (2005). Mercy Corps was also one of the first responders to the Indian Ocean tsunami (2004), Haiti earthquake (2010) and, most recently, the devastating earthquake in Nepal (2015).
Make a gift to support Mercy Corps' work in some of the world's toughest places.