With war over, Mosul faces its next battle: recovery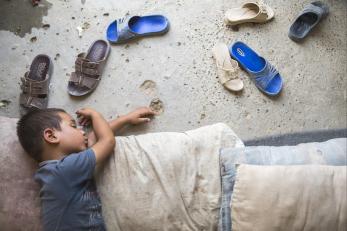 September 29, 2017
Ayad's children nap on the dirt floor inside their tent, dusty sandals splayed beside them. In this desert displacement camp, Ayad grieves that their lives have morphed into a series of water collection and food distributions, but they have nowhere else to go. Their home was razed nine months ago.
In Mosul city, Faiza fills a small plastic tub with what water she can spare, improvising a pool to keep her six grandchildren cool. The heat is sweltering in the bullet-pocked shelter they now share with five other groups, but Faiza can't afford a fan. There is no work, and she's been borrowing money just to keep her family fed.
In another neighborhood, Samer* sits in the cramped courtyard of his rented shelter trying to catch relief from the same heat. He rubs what is left of his tender legs—both of which were lost after hitting a roadside bomb—as his young children run circles around him. As he describes what they are facing, he calls to his wife for confirmation, but she doesn't respond. The blast took her hearing.
"We were rich people once," Samer says wearily. "We helped people in need. Now we are the ones who need help."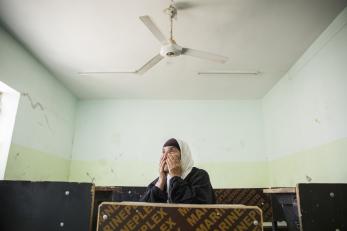 'They lost their humanity'
Before this—before the city fell to ISIS, before the excruciating battle to liberate it—Mosul was a historic, vibrant city where 2.5 million people built their lives.
Parents sent their boys and girls to school with colorful backpacks draped over their shoulders. People gathered on the banks of the Tigris river, laughing and roasting fresh fish on the tree-lined shore. Families packed streetside cafes. Students filed through the doors of the university library, thick textbooks wrapped in their arms. Men and women tended to the city as doctors, policemen and teachers. Centuries-old architecture peppered the skyline. Life was everywhere. People were happy.
That was before.
When the battle to reclaim Mosul began last October, after three years of rule under ISIS, the choice to stay or leave wasn't an option as much as a gamble: flee and risk being shot by snipers, or stay and brace for the bombs.
"Some people prepared to stay and protect their property, and they did not want to jeopardize their lives and their kids' lives," says Hassan Waleed, Mercy Corps' emergency response program manager for Mosul. "Others thought, 'I'm dying either way. Let me take my chances and flee.'"
Access to vital necessities—fuel, water, electricity—was cut off. Basic foods reached exorbitant prices; 1 kilogram of rice alone cost $25 USD. No one—civilian or fighter—was safe from the daily onslaught of explosions and gunfire. Nearly a million people were forced from their homes, many of which were bombed and shelled with residents still inside.
By the time the city was declared liberated nine months later, it had suffered a battle so severe it has since been called the most brutal urban combat since World War II.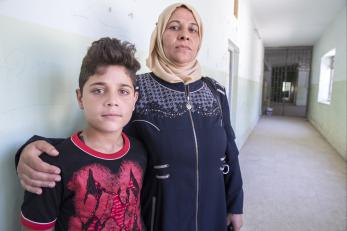 Once-colorful city blocks lined with schools, churches and parks have been reduced to piles of rubble and twisted metal. Families have been severed. By some estimates, 40,000 people have been killed and many more injured.
Those who remain are left to salvage their lives in a city covered with 11 million tons of residential debris and so many leftover landmines the United Nations estimates it will take a decade to clear them.
This is the hard truth about war: to experience it is one thing, and to survive it is something else entirely.
"War always has a domino effect," says Waleed. "It doesn't end by announcing victory or liberating an area. People suffer. They will carry on wounds, physical and mental. People died—nothing will solve this.
"It takes a really big effort just to recover, to help those people come back to proper life and decent life. They are somehow breathing, walking and eating, but they lost their humanity, their idea of being a human."
A lifeline of support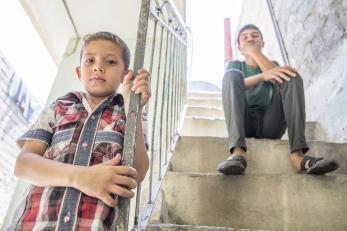 "I am so tired," Marwa says." Her husband, Thaa'er, has Parkinson's disease and was severely injured in an explosion near their home. His poor health prevents him from working, and they have four children to support. "We have no money for medicine," she says. "If there is food, I eat. If there isn't food, I don't eat."
Across Mosul—and especially in the historic west side of the city—at least 8,500 homes have been leveled and many more are fragmented and in disrepair. Nearly 100 kilometers of roads are damaged. Public services, including water, electricity and medical care, are debilitated. Job opportunities are gone. And the need is enormous.
Of the 1.5 million people who have been affected, most, like Marwa, are struggling to meet every one of their basic needs.
"Every single household has a story that definitely will break your heart," says Waleed. "The stories that you hear are horrible, horrifying. It's beyond our imagination."
Mercy Corps has been responding to the crisis in Mosul since the month after the first clashes began, aiding those who fled the violence and providing hygiene kits, cooking materials and shelter supplies to help them survive.
In the wake of this disaster, we're beside—and we'll stay beside—families still in Mosul city with cash and support to meet their needs as they slowly begin the hard work of recovery.
Tens of thousands of people have so far received emergency funds to purchase medicine, clothing, shelter and other urgent priorities. The cash is a lifeline that brings not just immediate practical reprieve, but relief to stop worrying about today, and start thinking about tomorrow.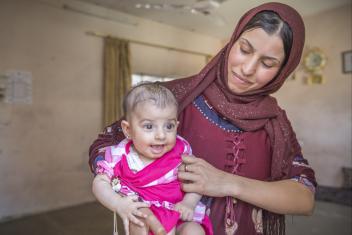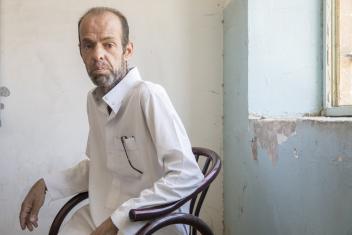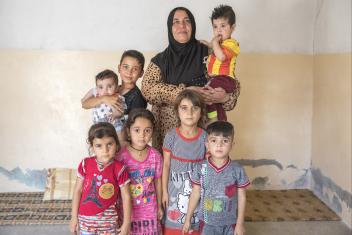 For people like Faiza, that makes all the difference.
Back in her family's shelter in east Mosul, she keeps one eye on the kids splashing in the makeshift plastic pool, and chases Yusuf, her 1-year-old grandson, around the next room.
"All day I'm running after them!" she says with a tired laugh.
Like so many others, Faiza lost everything in the conflict, not least of all her ability to support the people who depend on her. And with her grown children often out searching for work, daily childcare for the little ones falls to her—giving her plenty to worry about.
Now, at least, providing food and shelter isn't one of them.
"This cash saved us," Faiza says.
*Name has been changed to protect identity and safety.
Help us provide even more support to the people who need us around the world.