Meet the Mercy Corps team: Ronald, Uganda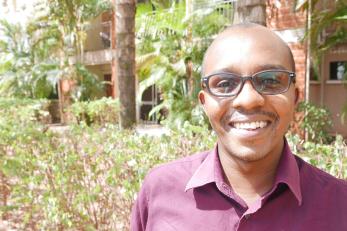 March 15, 2017
Our Meet Mercy Corps series celebrates some of our 5,000 incredible staff members around the world. This time we are meeting Ronald Rwakigumba, Country Coordinator for the Agri-Fin Mobile project in Uganda.
Tell us a bit about yourself.
I live in Kampala, the capital of Uganda and have been working with Mercy Corps since February 2016 as the Country Coordinator for the Agri-Fin Mobile project. What we do is help smallholder farmers increase the money they can make from farming by helping them access loans and use mobile banking services that are available in the country — but not always easily obtainable to the most vulnerable. As basic mobile phones are increasingly common across Uganda, we also help smallholder farmers increase their rates of production by disseminating information about weather, markets and farming tips through text and voice messages.
What does a typical day look like for you?
There is no typical day! I think this is a great thing — although it can be challenging having to be so flexible. One morning I might be working with mobile app developers to build the mobile tools which the smallholder farmers use; another morning I'll be in the field, meeting with the farmers to understand their needs. Other days, I'll be meeting with Government institutions and private sector start-ups to make sure that our activities can be scaled and sustained when the project finishes. As with all jobs, there is a certain amount of basic admin — which is not the most exciting part, but it's necessary.
What motivates you?
I love seeing the value that I can add to our work by the support we provide to the smallholder farmers. By reducing their levels of poverty through better practices and financial inclusion opportunities, there is a positive domino effect on their family's education, health and general wellbeing. Mercy Corps is a global organization that offers great learning opportunities both within and across countries. I enjoy traveling to other countries to both learn and share new information. I also really like the approach Mercy Corps takes to working with the private sector and embracing new technologies that can quickly allow us to reach more farmers.
Tell us about something that makes you really proud of your program.
Agri-Fin Mobile is now recognized internationally within the development sector as an innovative project which has generated learning on the best practices for using mobile technologies effectively. For instance, in February 2017, I had the opportunity to present on the successes of the project at the Aid and Development, Africa Summit in Nairobi. Realizing that other people are keen to learn from our project is really motivating.
And finally, what do you do in your spare time?
With this job, I don't have much spare time. But when I get the chance to relax, I like to read, and go hiking in the mountains — in Uganda we have some of the highest mountains in Africa, like in the Rwenzori, where there is a glacier at the top! But what I enjoy most are animals: I like to volunteer at the Uganda Wildlife Education Centre, as an animal keeper — how else would I have the opportunity to look after a baby elephant called Charles!