Partnering with Mastercard to provide cash and financial services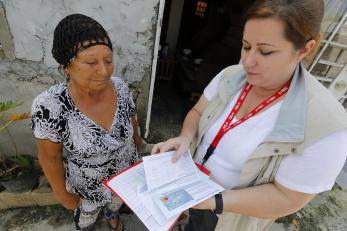 February 13, 2018
The world is facing some of the greatest humanitarian challenges of our time, and at Mercy Corps, we know that no single organization can tackle them alone. So we work across the public and private sectors to bring our unique expertise, innovations and solutions together to spark, scale and sustain change for communities in need around the world.
Mercy Corps is incredibly proud of the partnership we have with Mastercard. We believe this partnership embodies the spirit of both organizations, with Mercy Corps and Mastercard contributing unique expertise and ideas and providing greater impact than each individual organization could have alone. Whether responding to natural disasters, promoting inclusive and equitable economic growth or advancing technology in aid and development, Mastercard and Mercy Corps have been working together since 2012 to address some of the world's most pressing challenges and helping to transform lives.
Our partnership with Mastercard is comprehensive, integrated and embodies more than just financial support. In addition to providing generous funds to support our programming, Mastercard actively supports Mercy Corps and our mission through innovative technology and products that we are able to incorporate into our global programming. Mastercard employees have also donated their time and skills to help find greater solutions to challenges many communities in the world are facing. Most importantly, our partnership has had real, positive impact — reaching more than 80,000 individuals across 12 countries to date.
"We have found Mastercard to be a "partner" in the true sense of the word," says Britt Rosenberg, director of Corporate Partnerships at Mercy Corps. "Our partnership draws upon both organizations' core strengths — Mastercard as a leading technology and payments provider globally, and Mercy Corps as a leading global humanitarian and development organization working in some of the most challenging contexts."
Leveraging technology: The power of cash in crisis
In September 2017, Hurricane Maria devastated the island of Puerto Rico, leaving 3.4 million residents to face one of the island's worst natural disasters in decades. Nearly half of Puerto Rico's population lives below the poverty line — making the task of recovery even more daunting.
Following Maria, Mercy Corps led the way in emergency response with Mastercard prepaid cards to help Puerto Ricans buy the things that they needed most for themselves and their families. Not only does cash provide the dignity of choice after an emergency, but it also stimulates local markets and economies.
"I have been able to buy things that I didn't think I would be able to buy," says Aide, a Puerto Rico resident and mother of seven children. "Even if we don't have a bed, now we have food. Even if we don't have electricity, we have food."
Distributing cash through prepaid Mastercard prepaid cards has also supported thousands of refugees in Greece and the Balkans who have fled for safety from countries like Syria, Afghanistan and Iraq. Many of these families are living in limbo, waiting to see what the future holds.
"I came from Syria to Turkey, and then to Greece. I suffered a lot," says Hoda, a mother of three and recipient of a prepaid Mastercard. "Crossing the border from Syria to Turkey we crossed the hills, the muddy roads, we crossed the rivers. We didn't have any things. We stepped into Turkey barefoot, wet from the rain. We were threatened by the police several times".
While they wait, prepaid cards have allowed refugees like Hoda to make their own decisions about what they and their family need to buy most — things like food, clothing, transportation and communication expenses.
Leveraging philanthropy: Overcoming challenges with entrepreneurial opportunities
Mercy Corps' partnership with Mastercard has not only helped us meet the world's urgent needs, it has also allowed us to reach vulnerable communities with innovative solutions to financial inclusion and economic growth.
In Indonesia, micro and small enterprises play a significant role as drivers of Indonesia's economy through creating job opportunities and business services. In fact, micro and small businesses account for more than 95 percent of all enterprises in Indonesia and employ more than 90 percent of the country's labor force. Despite their importance, many entrepreneurs continue to face significant barriers to optimizing and expanding their business.
Mercy Corps and Mastercard are working together to address this challenge and support entrepreneurs in growing their businesses. With financial support from the Mastercard Center for Inclusive Growth, Mercy Corps is working to understand the unique constraints and opportunities entrepreneurs face, and ultimately connect them to the resources they need. Through business and financial training, mentorship and increased access to formal financial institutions, we are helping entrepreneurs to grow their businesses, earn higher incomes and create more jobs.
Leveraging people: New frontiers for financial inclusion
In addition to Mastercard providing incredible philanthropic and technology support, Mastercard employees have also invested their time and expertise to support the partnership.
"Pay it Forward: Doing Well by Doing Good" is the first collaborative pro bono project that Mercy Corps and Mastercard have partnered on, integrating Mastercard employee volunteers into critical projects that will strengthen Mercy Corps' global programs.
This pilot program first began in Nepal, a country Mercy Corps has been working in since 2005. Through savings and credit organizations in rural areas, Mercy Corps provides loans and lines of credit at fair and reasonable rates. Most transactions and record keeping, however, are a manual process, which is becoming increasingly cumbersome and needs to be digitalized for the programs to thrive.
"The rural cooperatives we visited in Nepal lacked basic infrastructure, but there were a lot of opportunities for improvement," says Rodrigo Rodrigues, Mastercard employee volunteer. "We realized we needed to build a development roadmap, starting by providing laptops and train the staff to use Excel. After this basic training, future cooperatives can implement more complex solutions such as credit scoring and digital transactions."
Following a highly competitive process, two Mastercard volunteers — Doug Meyer from New York and Rodrigo Rodrigues from Sao Paulo, Brazil — were selected to visit Mercy Corps programming in Nepal for two weeks this January. There, they were asked to make a recommendation on how to digitize financial transactions through the use of tablets or mobile apps to pilot with these local groups.
The pilot program was "one of the best experiences of my life," says Doug Meyer, Mastercard employee volunteer. "Mastercard emphasizes the importance of financial inclusion, and it's not just talking the talk. It's giving its employees the opportunity to roll up their sleeves and contribute to the cause directly."
The Mercy Corps and Mastercard partnership demonstrates what is possible when two entities are truly committed to a shared vision and bring their unique skills, knowledge and resources together to make that vision a reality. From providing cash in the midst of disaster to supporting entrepreneurs and driving equitable financial inclusion, Mercy Corps and Mastercard are committed to building a better, stronger world.
"A successful partnership is rooted in shared goals," says Leslie Meek-Wohl, director of Global Programs at the Mastercard Center for Inclusive Growth. "We share a common vision and values with Mercy Corps that has allowed our partnership to grow and evolve over many years. Taking an innovative approach to using our people, products, and philanthropic programs, we have built a unique partnership that has impacted the lives of thousands of people around the world."