Water scarcity and the Syrian refugee crisis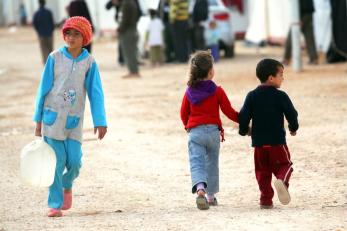 March 09, 2014
Jordan is running out of water. Already one of the world's driest countries, the Kingdom faces a crisis badly exacerbated by the increasing needs of those displaced by Syria's civil war.
Last year, the bloody conflict pushed 600,000 refugees into northern Jordan, placing profound new pressures on already over-stretched resources.
We wanted to better understand how to navigate this new environment, where a refugee crisis layers over chronic scarcity. In early 2013, I spent several weeks in Jordan interviewing hosts and refugees, international donors, water specialists, NGOs, and government representatives. The goal was to outline the scope of the challenge, capture key lessons from those living and working on the front lines, and inform future efforts.
The result is a new report out today, outlining the urgent needs and our recommendations. See the statistics and stories in Tapped Out ▸
Daily struggle for water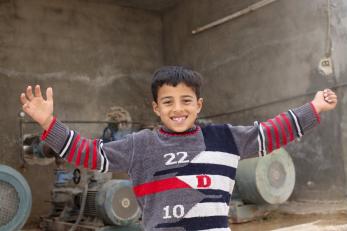 Water scarcity is a national challenge that is strikingly intimate. It profoundly affects families and communities. In northern Jordan, which hosts the largest number of Syrian refugees, water shortages have spiked. Hospitals and schools don't have enough water to maintain sanitation standards. Mosques cannot perform the necessary daily ablutions. Pipelines are running dry, particularly in the hot, dry summers. Sometimes weeks elapse before a drop comes out of the tap.
"Not having water adds a lot of pressure to people," said Um Omar, a single mother living in northern Jordan. Sometimes she would go to neighbors to ask for water, but often they were nearly as desperate.
"I was worried all the time. It is a major source of anxiety. A woman having to go to her neighbors in the middle of the night" — she waved her hand — "she feels her dignity taken away."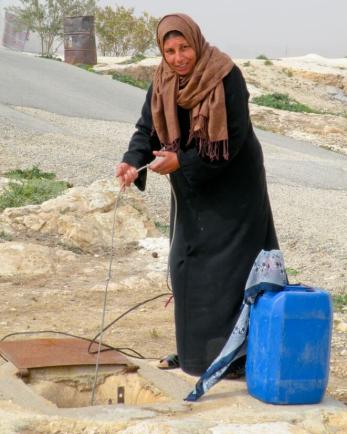 Conservation helps both Jordanians and Syrians
Mercy Corps has been working in Jordan since 2006 to increase access and help communities conserve precious water resources. With the influx of Syrian refugees, we rapidly expanded our programs to address overwhelming new needs.
In addition to digging new wells to serve the Zaatari refugee camp, we've upgraded the city infrastructure to improve the water supply for tens of thousands of people. Our USAID-supported microfinance projects have helped families and schools install rainwater catchments and greywater treatment systems, reducing demands on local water networks.
These local investments don't just help Jordanians: Approximately 83 percent of refugees live not in camps, but in Jordanian cities and towns.
Last year, through these programs, Um Omar installed a rainwater catchment system at her house. Her cistern has been naturally filled by rain three times. With the added water, she has enough to prepare food, wash clothes, and maintain a small garden of olive trees and thyme.
"Before I could hardly breathe," she said. "I'm not as scared anymore."
Improving infrastructure and mitigating tensions are key
But massive needs persist: Nationwide, Jordan's leaky pipes lose an estimated 7.6 billion liters a year — enough to satisfy the needs of 2.6 million people, roughly the population of Chicago.
In our new report, Tapped Out, we outline our recommendations for addressing Jordan's water shortage during this critical time. The ongoing refugee crisis requires that we make smart, long-term investments now in order to preserve the health and security of one of the Arab world's most stable countries.