PHOTOS: In Jordan, refugees find healing in the wilderness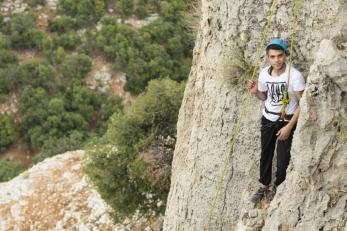 April 11, 2017
The Wadi Rum national park in Jordan is so otherworldly that filmmakers have used its red rock faces as a stand-in for the surface of Mars. But for one group of boys, the copper sands and granite cliffs really are a world away — from the lives they left behind, and the horrors of the Syrian war.
Since the beginning of the Syrian crisis in March 2011, more than 1 million Syrians, many of them young people, have fled to Jordan in pursuit of safety, security, and opportunity.
To help them adapt to their new community, Mercy Corps uses wilderness therapy, including activities like hiking and rock climbing, so Syrian and Jordanian youth can interact in the outdoors, away from the struggles of daily life.
"We go out into nature and do a lot of activities such as rock climbing, slackline and hiking," says Monther Altiti with Mercy Corps Jordan. "We also do a lot of teamwork and trust-building. We do this because young people, and especially Syrians in host communities, they have nothing to do. Most of them, they dropped out of school, they have conflict with the law or they lost one of their parents in war, which is why we came up with this idea."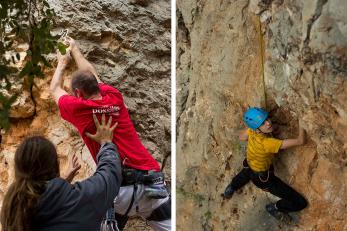 At the base of the rock face, Jeronimo Candela, Operations Director of Mercy Corps Jordan, helps the boys buckle their helmets and clip their carabiners.
"In these communities, there are conflicts between the Jordanian community and [the boys from] Syria," Candela says. "They feel invaded. And through these activities and working with young people, it's a dynamic and positive way that the two cultures coexist at ease."
Candela serves as belayer for the climbers, anchoring the long rope and spooling it through a carabiner clipped to his belt to provide slack as a Syrian boy gingerly makes his way up the rock face.
Getting outdoors helps young refugees release their negative emotions, improve their problem-solving, and literally get away from it all.
"Adolescent Syrian refugees often experience extreme conditions of conflict, gender-based violence, and abusive child labor," says Hannah Hilleson, a Mercy Corps senior program officer. "By experiencing nature, these youth can reconnect, build trust of themselves and of others."
This trust can be very hard to build in a new home.
"These guys have no way out of their village," Candela says. "[Climbing] is open-air, mountains, getting away from the city. You do not do it alone. You will always make friends."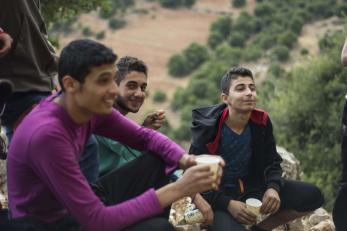 The camaraderie doesn't end with the climb. Afterward, the boys reflect on how they can use their new skills in their personal lives.
"We try to learn communication skills and we learn to trust each other, how to work within a team," Altiti says. "We also switch roles, so different people can get leadership experience.
"We feel it's very important, in life, in school, and work, dealing with everyday issues. We reflect on the skills we've learned in the program and how we are going to implement them in our life."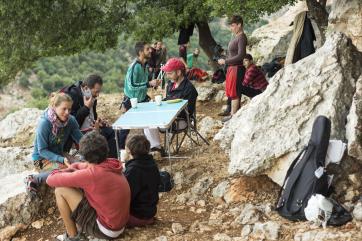 After the climb, Candela plays his guitar while the Syrian refugees and their new Jordanian friends drink tea together on a ledge beside a high cliff. Beneath them lay the vast valley floor, seemingly a world away.
"Being here with friends, and outdoors, you forget everything," Candela says. "And it's what they need, these guys, because they have a lot of trauma behind them. With new memories and positive activities, they erase the other. I feel we are doing something good for them."