John Deere partnership empowers rice farmers in Asia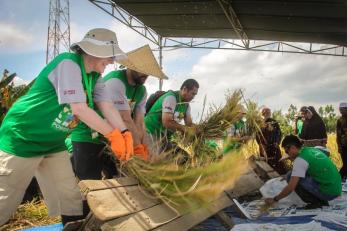 April 16, 2018
A bird's-eye view of the globe reveals vast areas of lush green land, ripe with the promise of more food and better incomes. These cultivated crops eventually make it onto our tables, feeding us while also feeding into a larger agriculture industry.
In countries like Indonesia, where the national economy heavily relies on its agriculture sector, Mercy Corps, along with our partners, has jumped in to support the essential stakeholders: farmers.
Mercy Corps began work in Indonesia in 1999, and in 2014 we joined forces with John Deere to help improve the livelihoods of rice farmers. John Deere has been the leading name in agricultural equipment, tools, technology and services that fit the needs of a changing world for almost 200 years. Coupling their expertise and company values with Mercy Corps' extensive experience in strengthening farming practices around the world created an ideal recipe for success.
"We have chosen to continue and expand our work with Mercy Corps because of the core beliefs that we share, including our belief in the enormous potential of farmers and farming communities to make the entire world a better place," says Arun Pandey, John Deere citizenship program director.
Helping farmers build their businesses and communities
Our two organizations share a belief in the power of farmers and farming communities and together we developed the fittingly named POWER project: Promoting Organizations that Work to Empower Rice Farmers. The program targets rice farmers in Subang, West Java, Banyuwangi, East Java and Lombok, West Nusa Tenggara. As the first phase of our partnership comes to an end, we are confident that our work together will continue to have a lasting impact.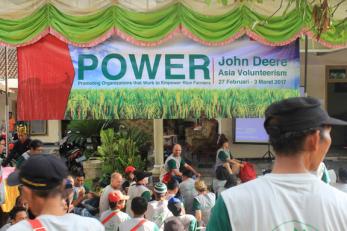 "One key result from the work by Mercy Corps and John Deere is that we were able to successfully demonstrate to the community that together we can improve the capacity of farmer groups to run businesses benefiting the farmer community, something that, previously, no one expected that farmer groups were able to do and to become an independent business entity," says Tri Ismono, Mercy Corps POWER program manager.
Farmers in Indonesia and other developing countries have limited access to agricultural advice, high-quality inputs like seeds and fertilizer and market opportunities. POWER teams worked with local farming organizations that support member farmers to combat these major obstacles affecting the industry on a national level.
Over the last three years, farmer groups have developed stronger skills and launched new services for their farmer members. For example, some groups have developed partnerships for improved access to supplies like fertilizers and pesticides. Other provide tool and equipment rental to farmers.
To date, the program has supported 8,310 smallholder rice farmers who belong to 48 farmer organizations. Individual farming households have seen an average 13 percent increase in their incomes. And through December 2017, 808 rice farmers accessed microloans — credit to invest in land.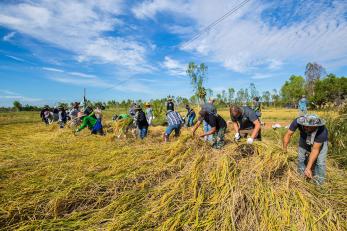 The John Deere Foundation has contributed funding and John Deere employee volunteers work directly with Mercy Corps staff and local farmers on the ground each year to bolster program impact.
"John Deere's 'higher purpose' is to support and serve those linked to the land. POWER enables John Deere to do this on two levels — through financial support and through volunteerism, helping drive greater impact for communities across Indonesia," says Britt Rosenberg, Mercy Corps' director of corporate partnerships.
Witnessing the work in action
During the last three years, groups of 15 to 20 John Deere employees from around the world traveled to program locations to apply their personal knowledge.
"For the John Deere team, it has never been enough to simply experience the lives and challenges of farmers by joining them in the fields to feel the rigors of transplanting or harvesting rice," Pandey says.
"By designing and providing immersive trainings on financial literacy, business planning, marketing, and other topics essential to farming, John Deere employees have aspired to bring to life John Deere's higher purpose of improving the quality of living for farmers and others around the world."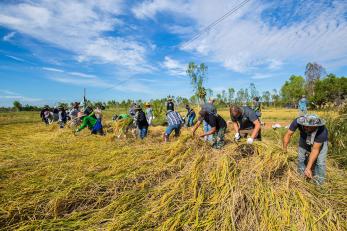 Mercy Corps and John Deere's partnership to improve the lives of farmers is growing, with a recent expansion into Thailand. In 2017, we initiated the Hug Khao program to improve the livelihoods of smallholder rice farmers in the northeast region of the country — an area with historically low farm productivity and higher rates of poverty.
One of Hug Khao's strategies is to leverage John Deere Thailand employees to directly impact the program's development goals. Our approach is built upon a robust, immersive and on-going volunteerism program. Volunteers first spend time within a community to understand their challenges, then organize into working groups to develop and lead specific activities to help address those challenges. Hug Khao's volunteers are, in a very personal way, directly living out John Deere's commitment to those linked to the land.
As for POWER in Indonesia, the Mercy Corps and John Deere teams are in the process of co-designing what's to come.
"In March, we had a group of ten John Deere employees visit our program in Lombok, meet with farmers, farmer group leadership and various partners from across all three program sites, and help brainstorm ideas for the next phase of our work together," Rosenberg says. "This kickoff, design session will be instrumental as we begin our assessment and design process for POWER II."
Help us provide even more support to the people who need us around the world.