How do citizens build better government?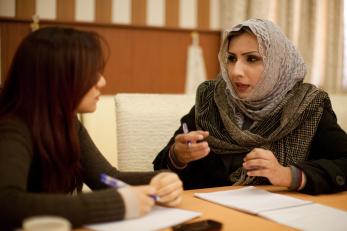 April 28, 2014
As Iraqis prepare for national elections at the end of this month — the first to be held since U.S. troops withdrew over two years ago — many fear that the rising tide of conflict will undo the democratic gains of recent years.
Violence has become a source of chronic tragedy here; so far this year, terrorist attacks and bombings have killed over 2,000 civilians.
Yet, despite these challenges Iraqi citizens across the country have peacefully advocated for solutions on a range of issues from the lack of basic services to more fundamental issues of protection of minority rights, participation in decision-making, decentralization and anti-corruption.
Our new research study, Bridging the Gap, identifies the critical role that Civil Society Organizations (CSOs) play in fostering this development of good governance in a volatile post-conflict setting.
Mercy Corps has been working in Iraq since 2003 to improve governance systems by supporting community involvement and civil society. CSOs are the mechanism through which ordinary Iraqis from various professions — journalists, youth activists, NGO leaders and humanitarian workers — are trying to make government more responsive, open and accountable to citizens' concerns. They are fundamental to bridging citizens to their government.
We're now working in all 18 governorates to strengthen their capacity, get more citizens involved through outreach, and improve their effectiveness with trainings and advocacy.
To better understand the impact that civil society initiatives like this have on improved governance in Iraq, Mercy Corps undertook a nationwide survey, drawing responses from 5,000 citizens.
We found that citizens who thought CSOs in Iraq are effective in addressing their key concerns are more likely to have positive views of government, including higher assessments of government responsiveness and legitimacy.
The key takeaway from this research is that if programs like Mercy Corps' can help CSOs have a greater impact, the benefits will not only come from the immediate changes the groups work for, but also in gradually helping to improve the relationship between citizens and their government.
And in Iraq, where the bond between citizens and government is tenuous given the nascent stage of democracy and security challenges, supporting civil society in this way is essential for fostering long-term stability.
Although the small victories and progress being made by citizens and civil society are often overshadowed by violence and extremism, this research validates that these efforts are helping Iraqis lay the groundwork for a democratic and peaceful future.