Indian Ocean tsunami: Ten years later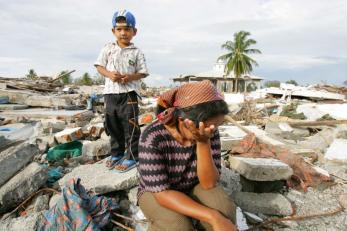 December 23, 2014
Ten years ago today, the devastating Indian Ocean tsunami was triggered by a massive 9.0 magnitude underwater earthquake. It was one of the deadliest natural disasters in recorded history.
From Indonesia to parts of East Africa, a series of catastrophic tsunamis that tore across the Indian Ocean killed over 270,000 people and millions were left terrified and homeless. The destruction was unlike anything people had ever seen.
Today, we pause to remember those who lost their lives ten years ago. And we're reflecting on the incredible outpouring of generosity from people all over the world to help survivors in their greatest time of need. Because of compassionate supporters like you, people in some of the hardest-hit areas were able to survive those first days and communities built back stronger in the years that followed. See photos from our emergency response below.
Within hours, we mobilized our largest emergency response to date, sending dozens of staff to tsunami-devastated areas with lifesaving relief and supplies. Mercy Corps was one of the first humanitarian organizations to arrive in remote areas of India, Sri Lanka and Indonesia's Aceh province, a war-torn coastal region near the epicenter of the deadly earthquake.
We rushed emergency food rations, temporary shelter supplies and blankets to help more than half a million people survive immediately after the disaster.
Building supplies helped people construct temporary shelters for their families. We also quickly began building and repairing latrines, bringing in water trucks and reconstructing wells, and repairing essential health clinics to ensure that survivors stayed healthy in even desperate conditions.
In Indonesia, where the storm hit hardest, we helped more than 423,000 people in 64 villages earn daily wages to repair public facilities. Local workers cleared and constructed hundreds of miles of roads and cleared debris from more than 32,000 acres of public land. This work helped revive the local economy and gave individuals a way to earn income to restore their own livelihoods.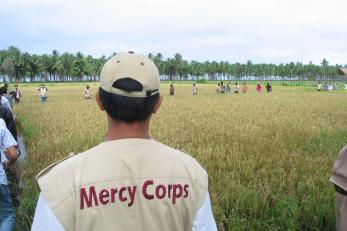 We also distributed seeds, tools and fertilizer to help farmers earn income after their fields were washed away. More than 1,000 farmers were able to replant and harvest their rice fields.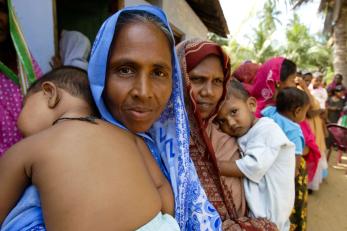 Our teams in India, Sri Lanka and Somalia responded to urgent relief and recovery needs in similar ways: providing emergency relief supplies, hiring locals to rebuild roads and public spaces, and helping people restart their farms and small businesses.
With an eye on the future across the tsunami-struck region, we also paid workers to repair ruined classrooms and provided supplies, uniforms and tuition to help 30,000 children return to school as quickly as possible.
Over the course of our tsunami response, Mercy Corps provided assistance to more than 1 million survivors of the disaster. More than 250 of our field team members and hundreds of local partner staff in the region contributed to this massive effort.
It's been a decade since the Indian Ocean tsunami, but the work that supporters like you made possible has not been forgotten.
"Much of the disaster response work Mercy Corps is now doing has been informed by the 2004 Indian Ocean tsunami. We learned so many lessons at the time – lessons which are now incorporated into our program design to help ensure that a disaster of that magnitude does not claim that many lives again," said Indonesia Country Director Paul Jeffrey.
Mercy Corps in Indonesia today
Our work in Indonesia continues today, to make sure communities are more prepared for future disasters and have the resources they need to recover more quickly. We've worked with the government and local businesses to create earthquake and tsunami education programs, early warning systems and tsunami evacuation maps, as well as establishing shelters that are adapted to better withstand a disaster.
Outside of emergencies, we're focused on improving health in areas where disease and malnutrition are a chronic threat, helping communities increase access to water and sanitation, and working with new mothers to ensure proper infant care. We are also partnering with local people to create new economic opportunities and more inclusive businesses and social enterprises that bring greater prosperity and security to people throughout this region for years to come.
Help us provide even more support to the people who need us around the world.