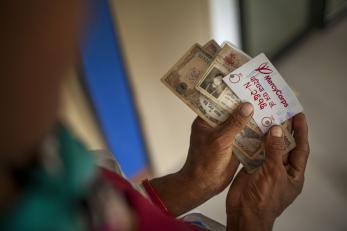 February 08, 2018
Cash is one of the quickest ways to help people get back on their feet and on their way to recovery when crises strike.
Whether in the form of vouchers, pre-paid debit cards, mobile transfers, paper money or cash-for-work, cash is a direct way of supporting people who need it most — in the most efficient, sustainable and dignified way. Cash distributions also bridge the divide between emergency response and longer-term recovery, creating a ripple effect that jumpstarts local economies and connects people to financial services for the first time.
Over the last decade, Mercy Corps has implemented cash programming in 31 countries, including Syria, Ukraine, Haiti, Niger, Yemen and Uganda. We have become a leader in providing cash when people need it most. Even in the midst of war, cash can help build pockets of resilience.
Get the quick facts about cash aid ▸
We were the first organization in Democratic Republic of Congo to use electronic vouchers for food and essential supplies, and the first to pilot cash-for-work in Afghanistan and in response to the Indian Ocean Tsunami in 2004.
Our commitment to exploring innovative approaches, finding the best and most effective ways to deliver our programming, has often led us to distributing cash. Our cash distributions have infused more than $300 million into local economies around the world.