Helping communities recover faster after disaster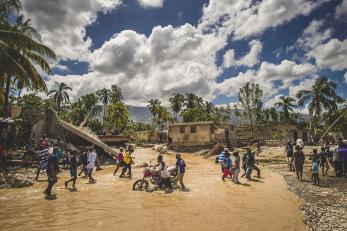 January 18, 2018
The headlines in 2017 were full of heart-wrenching stories and images of natural disasters wreaking havoc on communities around the world. When disaster strikes, the immediate concern of all humanitarian responders is, and should be, how to help people meet their basic, urgent needs, like food, water and shelter. But how a response is conducted can have significant implications on how the community recovers — and how fast.
Mercy Corps recently set out to better understand the connection between the efforts humanitarian organizations take in those early days and weeks when responding to natural disasters, and the impact our actions have on the longer-term recovery. The study, which was funded with generous support from JPMorgan Chase and implemented in collaboration with the SEEP network, found that two overarching factors can drastically impact the speed and sustainability of community recovery. 
Rebuilding local economies
First, supporting individual livelihoods and businesses, as well as the ecosystem of organizations and services that support them, can speed up post-disaster recovery and have a positive ripple effect across the community. We must focus on rebuilding local economies and supporting local businesses in parallel to, not after, launching a response to meet basic needs. 
One way Mercy Corps focuses on helping families and economies recover in the wake of a disaster is through our cash transfer programming. Providing people with cash or vouchers, as opposed to physical goods, supports local businesses and injects cash into the local economy at a critical time.
However, we also know that businesses face setbacks in times of disaster, through loss of assets, loss of employees and destroyed infrastructure. The recent report emphasizes that response efforts should include a focus on local business recovery because activities that help businesses can greatly speed up economic recovery, helping communities build back better and stronger. Mercy Corps took this approach in the Philippines following Typhoon Haiyan, launching an emergency cash assistance program, with an emphasis on reaching small business owners to help get their businesses back up and running and to stimulate activity in the local economy.  
 
Following Typhoon Haiyan, Mercy Corps provided emergency cash assistance to Cherrylyn, who runs a fried chicken food cart in the Philippines. After the storm, Cherrylyn's sales dropped and the price of poultry rose because poultry farms were badly damaged in the storm. Cherrylyn opted to use the cash she received to support her business while she waited for the price of poultry to stabilize and for customers to return.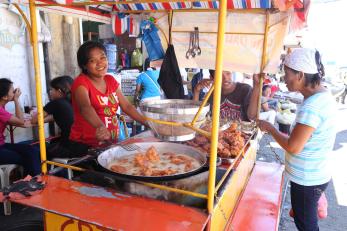 Building resilience to disasters
The other key takeaway of the study found that, perhaps not surprisingly, the most efficient way to help communities cope and recover from a disaster is to support disaster preparedness and build resilience in disaster prone areas before a crisis even hits. Doing this helps households and communities better prepare, withstand and bounce back from natural disasters and cyclical crises like flooding and drought. 
One area where Mercy Corps has been putting this idea into practice is in eastern Ethiopia where community members regularly face drought. In 2015, the El Niño weather cycle brought the worst drought in decades to this region resulting in a lack of food for livestock and massive crop losses. Recognizing the need to address chronic weather-related crises, Mercy Corps launched a project to invest in the long-term resilience of pastoralists. Our work is supporting pastoralist communities by improving access to veterinary supply markets, providing timely and accurate weather and market information and providing cash transfers and expanding access to financial services. 
In eastern Ethiopia, Mercy Corps is supporting pastoralists by connecting them to markets and improving their access to critical information and resources so that they are better prepared to withstand the impact of weather related crises. During a recent drought, households were significantly more likely to be able to keep their families nourished, had greater access to assets, and maintained healthier livestock and fewer animal deaths.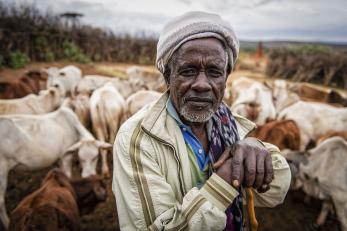 These combined efforts before, during and after cyclical weather related crisis have strengthened household resilience and underscore how investing in innovative, long-term resilience interventions can help mitigate the worst effects of humanitarian emergencies and protect development gains in vulnerable communities.
Thanks to the support and partnership of JPMorgan Chase, the leading takeaways in this report provide timely direction for humanitarian agencies, governments and donors in a year when the world witnessed extreme weather and more destructive natural disasters. While the most effective way to help communities cope with and recover from disaster is to bolster their resilience before a crisis even hits, working with local markets and businesses post-disaster can help speed up recovery and have a multiplier effect by injecting cash into the local economy and providing economic opportunities for affected individuals At Mercy Corps, we know this means investing in long-term programming that builds local capacity, strengthens communities, and creates disaster-response plans. 
You can read the full research report here as well as top-line recommendations for donors and implementing agencies.