Growth from guidance: MicroMentor and young entrepreneurs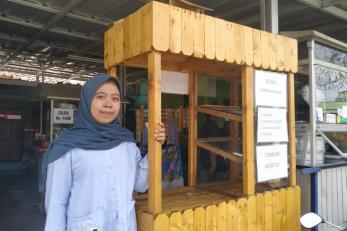 December 03, 2021
It can feel precarious to be a young person at this moment in time. Just as we're about to come into our own, we're facing big challenges like a global pandemic, climate change, and socio-economic injustices everywhere. While we may come up against some obstacles, we're not letting them hold us back, especially when it comes to creating change and opportunities for ourselves.
We're seeing more stories about the world's youth striking out on their own by starting social entrepreneurships and small businesses. Young entrepreneurs are risk takers, creative problem solvers, and can adapt quickly to a changing world. As an intern with Mercy Corps' MicroMentor, I've seen firsthand how the program has helped over 40,000 young entrepreneurs by connecting them with mentors through our online platform.
Since 2014, MicroMentor bridges a gap for entrepreneurs who lack the resources—both social and financial—to turn their vision into reality. Through pro-bono mentorship, small business owners around the world gain access to social capital and a global community of business knowledge. Emerging entrepreneurs use the support system to connect with experienced business owners—learning and sharing insights from people who have done it before.
From creating an educational program to opening a food kiosk on a university campus, young small business owners are creating livelihoods and making connections. Read more about three young entrepreneurs from the MicroMentor community who found growth for their projects—and themselves—through mentorship and guidance.
Creating educational access in rural Nepal
When COVID‑19 forced the school closures in 20-year old Bipana Dhakal's hometown in rural Nepal, she felt compelled to step in and make a difference in students' lives. The lack of internet access made it impossible for many students in Bardiya district to log onto virtual classes. For many, their education had come to a complete standstill.
During her final year of pursuing a BA in social work, Bipana wanted to use her education to directly impact her community. She knew from her own experiences that education is more powerful when it is open to more holistic development than rote memorization. Drawing inspiration from her childhood, Bipana started the Learning Fortress in early 2020, teaching soft skills and leadership development to cohorts of students between four and 15 years old.
I just think about what I wish I had when I was a kid and try to make that happen for these students. The children are my motivation.

Bipana Dhakal,

MicroMentor Entrepreneur
When Bipana first started The Learning Fortress, she recognized that she would need some help. A simple Google search for "online mentoring" brought her to MicroMentor, where she connected with Vanessa Robinson, a Miami-based management consultant. The two share a great relationship and meet frequently.
With Vanessa's guidance, Bipana learned crucial skills like grant writing, fundraising, and website building. For the past year, the pair has moved from working on program development to building Bipana's leadership skills. Vanessa was ready to support her through it all. "She was that dedicated and motivated to get this done right so I wanted to make it work," said Bipana.
Vanessa loves that Bipana is a quick learner. "In a matter of a couple of weeks, we managed to refine some of the key areas she needed to work on to make the program stronger and get more buy-in from stakeholders," said Vanessa. With Vanessa's help, Bipana secured a grant to purchase supplies for the students. With a professor's support, she found volunteer teachers and class facilitators. "Mentorship has helped me see different perspectives, think professionally, and become more confident in the steps I take for my project," said Bipana.
Building a long-term career in Indonesia
Full-time student Rizkia Shafarini attends classes at two different universities in West Java while developing her entrepreneurial venture, myproperty. Id, a property advertising platform. When she started her company at age 20, Rizkia put on several hats at once by taking charge of content design, managing social media, looking for agents, and more. Eventually, she felt like she needed help with developing a business strategy in order to grow.
Rizkia met her mentor Fariz in June 2020 through MicroMentor Indonesia. As a serial entrepreneur, Fariz helped Rizkia better understand strategies for developing her business. After creating a mentoring connection with Fariz, her advertising platform was successfully launched in October 2020 with more than 200 listings registered on the platform, some of which had already sold. Her operational team also improved rapidly with the internship strategy that Rizkia advised her to use.
"MicroMentor made it easy to find a business mentor. Even though my mentor explained and taught me everything from basic to advanced, I did not have to compromise my original vision. I really like to learn new things and build relationships, especially in terms of business, that's why I really appreciate MicroMentor," said Rizkia.
Developing a sustainable business model in Jakarta
Nour Aulia, a young entrepreneur from Jakarta, started her first business when she was only 16 years old. After graduating college, she began selling products on Instagram and working at a desk job. Aulia soon realized her dream to follow her entrepreneurial spirit full-time and in 2019 she quit her day job and opened a food kiosk in the canteen of her former university.
Thinking strategically about the future of her business, Aulia decided to seek out guidance in managing business finances and online marketing and joined MicroMentor in September 2019.
Since joining, Aulia has been connected with five mentors who have guided her as her business has grown: "I have become more confident in making decisions, and my business income has increased." With a boost in confidence and the tools and guidance she needed in hand, Aulia's business is growing and she is looking forward to a bright future.
Share your business knowledge