Bold murals help youth heal and inspire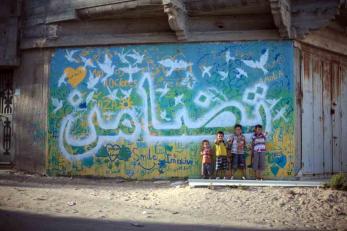 August 11, 2015
Most young people in Gaza over the age of seven have suffered through at least three wars in their short lives. War is an almost-constant reality, and families struggle to earn a living, support their children, and pick up the pieces after conflict flares.
The trauma of last summer's fighting is still fresh and haunting. People were displaced from their homes, and even the youngest survivors saw horrific violence. But despite the circumstances, life goes on in Gaza — and people look for a reason to hope again.
At a Mercy Corps summer program, youth in Gaza are finding new ways to heal and bring peace to their communities. Many children and youth, traumatized by conflict, struggle to express how they feel about the war and their future.
But through art therapy workshops, the voices of Gaza's youth are emerging from the darkness. They are strong, thoughtful and resilient. Working with our partners at the Kaynouna Center, the participants learned how to express themselves through drawing during the first art therapy sessions.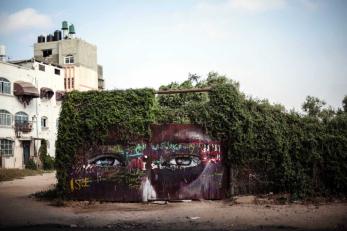 Soon after, they took their newfound skills to the streets of Gaza. With help from professional artists and our partner aptART, the group adorned walls and gates in their neighborhoods with bold, vibrant murals.
In painting the murals, the students visualized their thoughts about conflict, family and hope for a better future. "While I was holding the brush and painting all I felt was joy," said 10-year-old Doonia.
Their work has inspired hope in the community, too — bringing beauty and color to neighborhoods wrought with scars from past conflicts.
"People driving by in cars stop to see the painting because it's so beautiful," said 70-year-old Zalah, the owner of a gate the group painted. "People have started coming from all over Gaza — I am so proud that they chose to paint this beautiful mural on my gate."
Below, hear what youth in Gaza have to say about their experiences painting these powerful murals and participating in art therapy sessions.
Yousef, 14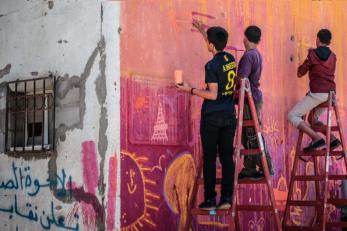 "Through the activities, I learned how to use different types of art to express my fears, my hopes, and everything else that I usually hold inside. For the first time I felt like I was able to express how I feel.
My favorite drawing is on the mural in the harbor. We had to draw somewhere we wanted to travel, and I decided to draw the Dome of the Rock in Jerusalem because I dream of traveling there one day."
Sabrine, 13
"During the sessions, I felt like I could draw all of my thinking, my fears, and even the vision I have for my life after the war. Before the sessions I hated drawing, now I love it and want to continue to use drawing to express my thoughts.
Now the thing I love to do most is to try and draw realistically like Falk [artist] does, except with landscapes instead of eyes. I take a picture and then try to draw as realistically as I can.
For the mural 'We See Hope in our Children's Eyes' we were asked to paint what we wanted to see happen in the future. My dream is to travel outside of Gaza, so I chose to write 'I see myself traveling all over the world.'"
Abdullah, 11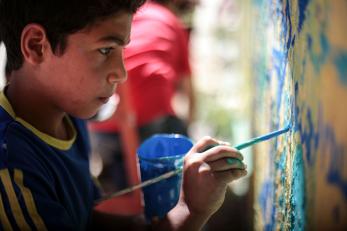 "The sessions allowed me to start expressing myself through the pictures I drew. One day my older brother said he wanted to take me to another summer camp, I told him 'no, I don't want to go because this is my favorite summer camp ever.' I hope that the sessions continue and next time I will ask all of my friends to join."
Ghaida, 13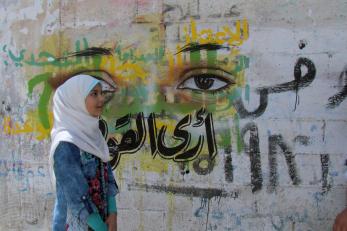 "Before, when I felt like I wanted to express myself, I didn't know how to put what I felt into words — I would end up frustrated and not say anything at all. When we started drawing our feelings I felt like life changed for me and I was able to start sharing what I was thinking.
Now, after the activities, I feel like I can share how I feel freely. I feel happier and I have hope for the future. When I walk by the paintings on the street I remember every minute I spent working on them and all of the happy memories."
Nagham, 12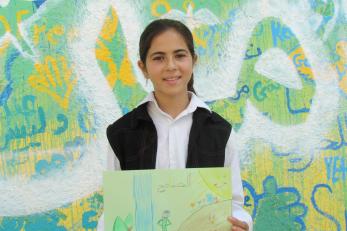 "When you ask any child in Gaza, they will tell you what they are most affected by is the last war. Since the war I get nervous about small or simple things and I don't know why. The comforting environment and how everyone worked together and helped each other during the sessions made me feel safe and my nervousness went away.
Now, I am still quiet, but I have not been getting nervous like I used to and I am calm instead. I am going to continue to use drawing as a way to express my feelings. My next project is to make up my own story and draw the pictures that go with the story.
Before, I felt like no one could hear me, even when I would try to talk to people no one would listen to me. During the sessions, I felt like someone was actually listening to me and actually cared how I felt, which made me incredibly happy. I kept all of my drawings so I can remember everyone and this wonderful experience."
Nagham and Sabrine's mother has noticed a positive change in her daughters since they participated in the art therapy project. "The most important thing they learned in the sessions was how to start expressing themselves. I can see the difference it made in my girls — they felt like someone actually noticed them and cared about them and it has made them so happy," she said.
"The first time I saw one of the walls, I wished I had a pen and I could write everything I feel and express myself openly like they did. Every word, every scratch on the murals is a story. When I look at the murals they made I don't see the children that drew them, I see thousands of stories."
Make a gift to support Mercy Corps' work in some of the world's toughest places.