Food that brings us together around the world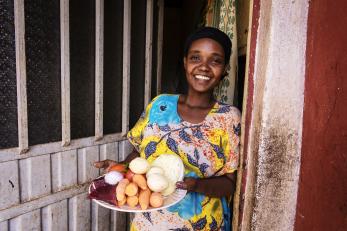 November 15, 2019
All over the world, families want the same things — a safe place to live, an education for their children and nutritious meals to keep them strong and healthy.
Food is a pivotal part of all of our lives. It's what fuels us to go out each day and work to make the world a better place. When people have access to healthy, nourishing food, it helps the entire community thrive.
Every community we serve, in every country we operate in, has its own unique approach to food.
Meet some of the families we work with below, learn about their favorite foods and hear their stories about how Mercy Corps is helping them and their communities flourish.
Colombia
Typical diet: yucca, broccoli, corn, cauliflower, mofongo, tamales, bananas, peach-palms
Marta, 50, and Alivo, her husband work as coffee farmers on the hillsides of the Andes mountains, just outside of the farming community where she lives. When she isn't farming coffee, she tends to her kitchen garden, which Mercy Corps helped her set up by providing her seeds, fencing and education on organic gardening practices.
The kitchen garden provides Marta and her husband with the access to healthy and sustainably grown foods like yucca, broccoli and beets, which is especially important as both Marta and Alivo are vegetarians for health reasons. Marta and Alivo's kitchen garden saves them 30,000 pesos, or $12 — a week in produce costs. They've been able to use the money they saved to hire workers to help them farm coffee during the harvest season.
Myanmar
Typical diet: rice, wheat noodles, tomatoes, pork, mangoes, mohinga, curried meats
Saw, 53, gathers tomatoes at his farm in Pinluong, Myanmar. He, his wife and their two daughters work on the family farm, where they grow tomatoes, serrated gourds, chillis and cabbages. Through a Mercy Corps program, he was able to connect with other farmers to share ideas, tips and resources to better their businesses and support each other.
Saw has taken a lot away from these meetings and has been able to improve his crop yield and income, and subsequently improve the quality of life for himself and his family.
"Mercy Corps has had a very big impact on our family. As our income has increased, it has made us very happy, and now we can also help other people," he said. "In our village, people are impressed with my farm, so they are interested in learning from me; so I can share my techniques for success."
Uganda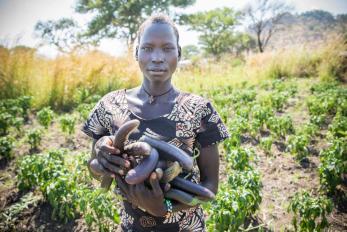 Typical diet: ugali, eggplants, peanuts, bananas, sesame, pineapples, chicken or meat stew in banana leaves
Grace, 29, harvests eggplants from her fields. She's a subsistence farmer who farms to feed her four children. Even though she and her children are now living in Uganda, the rest of her family is in South Sudan, where she fled from in order to escape violent conflict. Grace joined a farming group made up of both Ugandan and South Sudanese farmers, which allows members to come together to achieve the common goal of better crops for all.
When Mercy Corps gave the farming group vouchers for 20,000 Ugandan shillings, which equates to $5.42, many group members pooled their vouchers together to buy greater amounts of seeds and supplies, to make their money and their work go further.
Ethiopia
Typical diet: sourdough flatbread, spicy vegetable stew, lentils, potatoes, carrots, chickpeas, peanuts and sweet potatoes
Meseret is a mother to three young children and has learned new recipes through Mercy Corps' work in her village. The program encourages families to eat a diverse diet that includes fresh eggs and a variety of healthy vegetables like carrots, leafy greens, beets and tomatoes, in addition to traditional beans and flatbread.
Now everyone in Meseret's family enjoys preparing meals together, and she says her children don't get sick as often and are growing stronger every day.
Timor-Leste
Typical diet: rice, corn, tamarind, basil, fish, beans and cabbage
Zeferinha buys fish, usually tilapia, from fish ponds that her father and other local farmers started through a Mercy Corps program. The lean fish adds a much-needed source of protein to the diet in Timor-Leste — especially in remote inland villages that primarily grow rice and lack refrigeration to store fish and meat transported from other areas.
Zeferinha grills the fish and sells it by the side of the road for a good profit. She has three children in school, and sometimes the kids come by her stand for fish at lunchtime.
Niger
Typical diet: millet porridge, rice, cassava, vegetable stew, maize, squash and yams
Zouberou's usual lunch is porridge that his mother Santou makes from Niger's staple grain, millet. It's the center of most meals here, but when drought hits — as frequently as every other year now — the millet harvests suffer.
Mercy Corps is helping families adapt to the changing environment by providing stronger seeds and teaching new farming practices that help crops withstand drier conditions. We're also giving women goats as a new source of milk and income, and helping communities start small gardens that produce additional food during the dry season and diversify diets with new ingredients like sweet potatoes.
See how goats have helped girls in Niger ▸
Syrian refugees
Typical diet: flat bread, chicken, rice, bulgur wheat, yogurt, raisins, eggplant, cheese, chickpeas
Nour, 13, and her family live in Zaatari, the largest camp for Syrian refugees in Jordan. The settlement houses as many people as a city in its own right, complete with schools and grocery stores where families use vouchers to buy food. While they stick to basics most of the time, Nour and her mother sometimes make her favorite Syrian dish as a special Friday treat — chicken with raisins, rice, bulgur wheat and yogurt.
To help Syrian refugees who have few ways to earn an income, Mercy Corps provides cash assistance so they can choose what food and supplies they need most. We're also working to ensure refugees have enough clean water to drink, cook and stay healthy.
See what a typical day is like for Nour in Zaatari camp ▸
Indonesia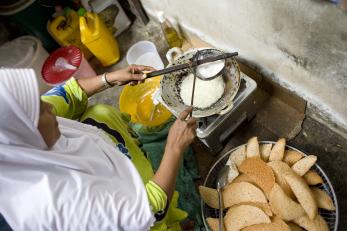 Typical diet: rice, spinach, chicken, taro, sweet bread, jackfruit, eggplant, chilies and cucumber
Sauda demonstrates how to make a special crunchy and sweet Indonesian cake that is made from rice flour. This cake is a sweet treat that is popular at family gatherings and celebrations. Sauda's daughter Ita got a small loan from Mercy Corps with some of her friends to start a business making and selling the rice cakes for local weddings.
Selling the rice cakes earns Ita enough money every month to pay her family's bills, send her children to school and save enough so she can reinvest in expanding the business.
Guatemala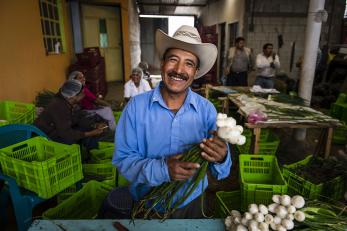 Typical diet: corn, spicy chicken stew, pork, chicken, rice, beans, mangoes, avocados
Obispo lives in Llano de Pinal, Guatemala, where Mercy Corps is helping farming families lead healthier lives and diversify their crops. After working with Mercy Corps, the meals that Obispo and his family eat are more balanced and include a varied mix of foods.
Through Mercy Corps, Obispo learned that "it is important to eat healthy food to have the strength to work. If we do not eat well, we can get sick." With some of his fellow community members, Obispo has started a co-op to share resources and knowledge on how to grow high-yielding and profitable crops without the use of chemicals.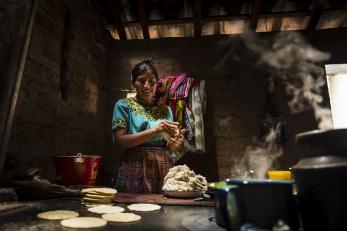 Typical diet: corn, chilies, tortillas, beans, tamales, chicken, beef, zucchini and bell peppers
Tortillas are a key component of the daily diet in Guatemala and women often make them by hand. As part of Mercy Corps' health and wellness work in rural Guatemala — a country with the fourth highest rate of chronic child malnutrition in the world — families receive fortified food rations and learn new recipes that add vegetables and other sources of key nutrients that will give their young children a healthy start.
See the recipes and try some at home ▸
Nepal
Typical diet: rice, spiced lentils, vegetable curry, potatoes, green beans and daikon radish
When Sarmila is done with school for the day, she helps her family by preparing spices and vegetables for the evening meal. The family lives in rural Nepal and rents a small piece of land from their landlord so they can grow their own food.
Gardening and food preparation take a significant part of every day — including gathering rice from the paddy and watering the cows — but Sarmila is determined to finish her education, thanks to support from Mercy Corps. Her mother has even been inspired by her daughter's love of learning and is taking literacy classes.
Hear more about Sarmila's dreams for the future ▸
Pakistan
Typical diet: wheat flatbread, beef, goat, vegetable curry, okra, cabbage, potatoes and peppers
Raima prepares and kneads dough to make roti — a flatbread made from stoneground wholemeal flour. Roti can be eaten with any meal and is popular across Pakistan. The bread is cooked in a clay oven called a tandoor. Many families have their own tandoor or share one communally with their neighbors.
To help women earn more income and families eat more protein, we teach women how to raise poultry that will provide valuable and nutritious eggs.
Democratic Republic of Congo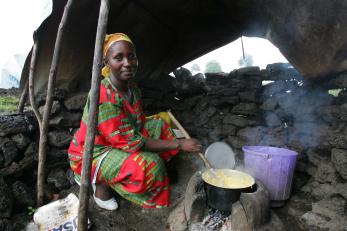 Typical diet: cassava, yams, maize, plantain, pumpkin, peanut sauce, peas and okra
Many meals in the Democratic Republic of Congo consist of either mashed cassava or cornflour and a sauce with vegetables, creating a kind of stew. Sometimes the starch is mixed with water to form a dough and the dough is then dipped in a spicy sauce. Zabayo received a fuel-efficient cookstove from Mercy Corps and can now cook her meals using much less firewood.
The benefits of the cookstove are exponential: Zabayo has more time to earn an income because she doesn't have to spend her days collecting firewood — an excursion where women are often attacked. She and her children are safer at home, too, because the stove produces much less smoke than the traditional fires.
Kyrgyzstan
Typical diet: beef, horse meat sausage, meat dumplings, noodles, soup, onions, carrots, garlic and fried bread
Meat is very popular in Kyrgyzstan, and a favorite preparation is doughy dumplings filled with a mixture of meat, onions and other vegetables. Akylay, 5, attends a rural school where Mercy Corps provides nutritious meals, part of a 20-year program that has helped 80 percent of the schools in the country.
We are also helping people in rural areas grow more food with home gardens. Fruits and vegetables have been especially rare because of the country's mountainous terrain and cold winters. With support and training from Mercy Corps staff, rural small farmers are now growing organic produce and raising healthier livestock.
Help us provide more support to youth and families who need us around the world.
Turn your knowledge into action by setting up a personal fundraising page.