Famine and food insecurity: What's at stake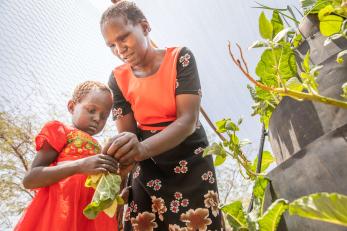 March 01, 2017
Q&A with Kate McMahon, Mercy Corps food security advisor
Right now, more than 20 million people are facing life-threatening hunger due to drought and conflict in four regions around the world. The United Nations declared famine in some parts of South Sudan and warned that famine could soon hit in Nigeria, Somalia and Yemen. Mercy Corps is meeting the urgent needs of tens of thousands of people in all four countries and is working hard to prevent catastrophe in the coming weeks and months. What does famine really mean? What's at stake? What's behind the numbers? Find out in this Q&A with Kate McMahon, Mercy Corps food security advisor.
The terms food insecurity and famine are often used interchangeably — but that's not really accurate. Why not?
Food security encompasses the many factors that enable someone to eat food and live a happy, healthy life. Being food secure means having sufficient nutritious food that is accessible and affordable and can be utilized by the body. Famine is basically the extreme, darkest form of food insecurity. While food insecurity is relatively common — experienced by about 795 million people around the world — famine is rare. In order to be classified as famine, an area must exhibit some very specific metrics, notably that 30 percent of the population is acutely malnourished and that there is a high mortality rate attributed to lack of food. What gets complicated is that if you don't have the data, famine can't be classified. That means famine could be in many places right now, but without this data it can't be declared.
These four regions are all very different — how can we think about famine across different areas like this?
These places all have a couple things in common. First, they are all plagued by decades of poverty, poor health and lack of basic infrastructure like education and health care. Second, in each place there is some level of debilitating conflict. Food accessibility means not having someone with a weapon standing between you and the food you need and the work you do so you can buy food. One of the big challenges to responding to a famine is resource. There's food out there in the world, but we must have the will and the money to get it to people. Right now, the world is seeing emergencies in Syria, Iraq, Yemen, South Sudan, Central African Republic and Somalia, to name only just a few countries. Humanitarian organizations are stretched beyond capacity — there's only so much money available and the resources are spread too thin.
Why is it imperative that the world act now in this crisis? What is at stake?
We are at a tipping point. The point we're at now — where people are already experiencing emergency levels of food insecurity — means that their situation is already really bad. We have to act now. And we've learned that the hard way: By the time famine was declared in Somalia in 2011, unlocking additional money to help, tens of thousands of people had already died.
Not all food security programming is around food. Explain how that works.
Food security is the ability for people to eat enough safe and nutritious food to support their well-being — and a number of different factors determine that ability. For example, one of the reasons we work to empower women to earn income is so they can make decisions about money and food for their family.
Can you give an example from one of these geographies?
For people to be truly food secure, their bodies must be healthy enough to absorb the nutrients in the food they're eating. So, our work to improve access to clean water and latrines, for example, helps prevent the spread of disease that can further weaken food security. In Somalia, we have a number of programs that focus on building conflict-management capacities and building relationships between communities. Conflict between groups, such as competition for limited natural resources, often can increase food insecurity. If you have relationships with people outside your community, your ability to avoid or reduce conflict increases and trade— including trade for food — can continue uninterrupted. All of that can improve food security.
Where are we doing our best work to fight famine?
This work looks different in different places because in each place the context is different. In Yemen, our food voucher program has been amazing and extraordinarily effective for more than a year now. We have also been responding in Syria since the early days of that crisis, increasing food access by keeping bakeries in operation and distributing food assistance to families most in need. In South Sudan, we have a big cash project just south of where famine has been declared. Get the quick facts about the crisis in South Sudan ▸ In Somalia, we are working hard to keep livestock alive. Cows are like bank accounts to families there and if animals die, families lose their assets and their ability to access food. So we are doing things like making sure communities have access to livestock vaccines. In Nigeria, we're empowering women to give them authority in their households and communities, working on water issues, building conflict-management skills and providing vouchers that allow vulnerable families to buy food.
How is this work at the heart of the Mercy Corps mission?
When you're responding to emergencies — as we are in South Sudan, Syria, Nigeria and Yemen, for example — you're working really quickly to save lives at that moment. These situations require that we address the urgent needs of people, while at the same trying to solve the root cause of the problem. It can be hard when you're just barely treading water, but thinking this way can also allow you to seize opportunities to be innovative in order to build long-term food security.
Your support makes a difference. Stand with us in the year ahead.