The facts: What you need to know about Super Typhoon Haiyan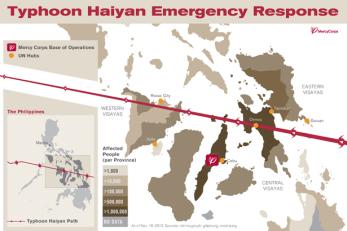 November 14, 2013
Editor's note: Numbers are changing daily as more reports of affected and displaced are verified by the Philippines government. We will update the information below accordingly. Our sources are UN OCHA and the Philippines government.
On November 8, 2013, Super Typhoon Haiyan cut a devastating path across the central Philippines. More than 16 million people were affected across the Visayas region, where the storm is known as Yolanda.
Mercy Corps' emergency team is working to rush supplies like clean water, food packages, blankets and hygiene kits to survivors.
You can help by donating to our Humanitarian Response Fund ▸
Here are some key facts about the tragic situation in the Philippines right now:
Super Typhoon Haiyan
Storm strength: Equivalent of Category 5, the highest — and the strongest tropical cyclone to ever make landfall

Sustained wind speed at landfall: 195 miles per hour — breaking the previous highest record of 190 mph

Wind gusts: Up to 235 miles per hour

Surge in sea level during the storm: 13 feet
Impact
World Health Organization disaster classification: Category 3, the highest — on par with the 2004 Indian Ocean tsunami and the Haiti earthquake in 2010

People affected: More than 16 million

Death toll: More than 6,000

People injured: More than 27,000

People displaced: 4.1 million

People in need of food: 2.5 million

Amount of area destroyed in the storm's path: 70 to 80 percent

Homes damaged or destroyed: 1.2 million — over half of which were completely destroyed

Amount of homes lost in hardest-hit areas: 90 percent

Most immediate threats to survivors (in order of urgency): Lack of safe drinking water, no shelter, untreated injuries and illnesses, insufficient food, lack of sanitation and personal hygiene items, lack of household supplies like fuel
The Philippines
Population: 98 million

Population living on less than $2 per day: 2 in 5

Number of babies to be born in typhoon-affected areas this month: 12,000

Share of roads that are paved: 22.2 percent

Global rank on infrastructure quality in 2009: 94

Global rank on infrastructure quality in 2011: 113
Emergency response
Members of Mercy Corps' emergency team: Experts in water, sanitation, logistics and distribution

Number of disasters our team has responded to since 2007: 23

Our immediate priorities: Food, water, hygiene and temporary shelter

Source of emergency relief supplies: Local wholesalers and vendors, to support the recovery of the local economy

When a larger permanent team is likely to be in place: December, with a focus on recovery and long-term rebuilding

Our early recovery efforts: Providing shelters materials and cash to rebuild; giving children a safe space to recover from trauma; pursuing larger-scale water and sanitation solutions
Help families in the wake of this disaster and other crises around the world.
Ask your community to send help to people in areas that need in most.