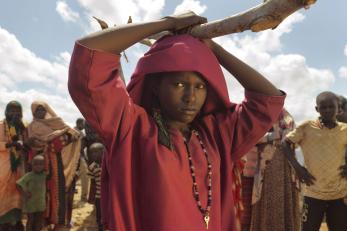 July 13, 2017
Drought is threatening millions of people in Somalia. Here are their stories.
In Dusta camp the sun is unforgiving.
Endless rows of domed tents line the dry copper mud that has cracked in the heat. I've come to Somalia to see how people are responding to one of the world's worst crises — but as families amble through the camp carrying yellow jerry cans, there is a sense there's nothing to do here but wait.
"We left because of the thirst and the hunger," says 19-year-old Fatima, who is in the camp with her husband and three children. "We had cows and bulls — they died. We had savings — they finished. And our wells dried up, too."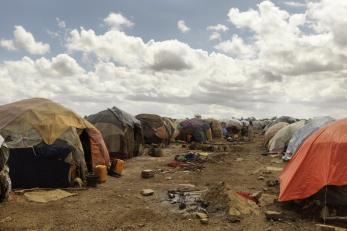 Here in Baidoa, a small city in the dry, rural plains of central Somalia, tens of thousands of Somalis have found themselves in the grip of a crisis that has built slowly and shows no clear end.
For three years, the biannual rains that breathe life into the arid landscape have failed. The 70 percent of Somalis who depend on agriculture for survival could only watch and hope as their farmlands dried up and their animals wasted away.
Last November, the "Deyr" rains failed completely and Somalis around the country realized they could no longer hold out. A massive wave of movement began as families gathered their relatives and what few possessions they could carry and set off in search of food and water.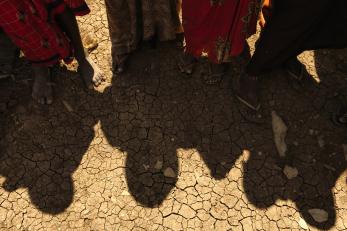 I meet Fatima at one of the water tanks installed by Mercy Corps in the displacement camps around Baidoa, which are now home to 160,000 displaced people. Before Mercy Corps began trucking in 30,000 liters of clean water every day, many families were drinking from open pools of dirty, contaminated water they shared with animals.
"My husband is sick and cannot get food for us. He has a very high fever, but we don't know what it is," Fatima says. "We get water, but we struggle to find food and so we eat with our neighbors."
Many families tell me the same story — that a sense of community and solidarity within the camps ensures that food is shared, but that the outside support they receive is a key lifeline in these critical conditions.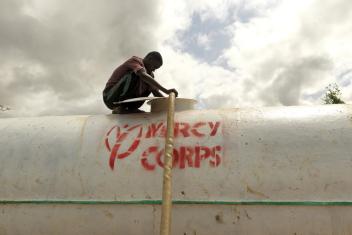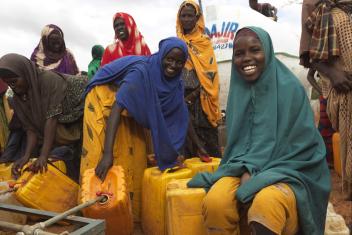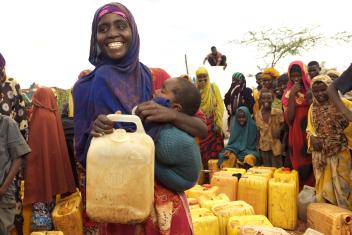 Last year, Mercy Corps rehabilitated 49 irrigation canals, 31 canal ditches, 27 culverts, seven river embankments, 12 roads and nine market centers in 115 villages in south-central Somalia. To do this work, we reached more than 13,000 Somalis with cash for work opportunities, meaning local people earned wages for rehabilitating their own agriculture infrastructure.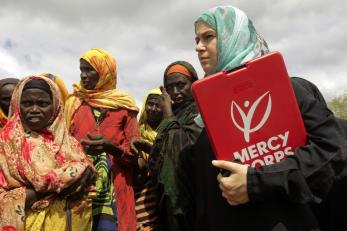 Drought is an unfortunate reality in Somalia: droughts killed 300,000 people in 1991 and 260,000 in 2011.
Conflict between government troops and al-Shabab militants has added another dimension to the crisis and the international community's ability to reach rural areas. The dirt roads that cut through Somalia's countryside are in many places beyond the control of the government.
"Compared to the 2011 drought, this is worse because in that one we used to get food aid to our homes and there weren't as many cases of cholera and measles as there are now," Ali, 60, tells me. "At that time it was more peaceful in Dusta than it is now. Aid cannot reach Dusta because of the violence. It was more peaceful."
I meet Ali at a food distribution center as he approaches his third month in the camp. Ali and his family were identified as one of 100 households in the camp as being especially vulnerable—families who are sick, elderly, disabled or lacking parents. They receive a kit designed to feed a family of seven for a month, with rice, beans, flour, oil, sugar, dates and tea.
"Dusta is my birthplace," Ali says. "I have been living there for the past 60 years of my life."
"We want to go back and do our farming. [But] we need food and savings for three months to see us through farming until harvest time."
The seasonal "Gu" rains had begun by the time we visited the camp, but after so much severe drought, the rains brought more trouble than relief. Many families told me how their makeshift tents flooded throughout the night, leaving many to stand and hold their children until the hot morning cleared the water.
Naturally in such hot, wet and unsanitary conditions, disease has gripped the camps. Baidoa has become the capital of Somalia's cholera outbreak, with almost 30,000 cases and 550 deaths recorded between January and May. With needs rapidly changing, Mercy Corps is now preparing to reach Somalis with hygiene promotion kits as part of our response.
One morning, while entering a camp, we see men digging a grave not three feet long for a child that died during the night from disease. I then meet 40-year-old Hussein, the father of 4-year-old Mohammed, whose small body was still inside the tent and covered by a thin cloth.
"My son was ill for just a few days," Hussein tells me. "Cholera is going through the camp — that's how he caught it. More than 10 people have died in recent days."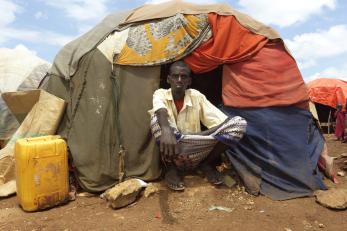 The next day I meet Hussein again at the food distribution center, where he receives a Mercy Corps food kit. He tells me more about his story, how he took on debt to pay for food and medicine and has no way to repay it. Now another of his children at the camp is showing the same symptoms as Mohamed.
"If ... they tell me he has died, I would believe it, because of the situation I saw him in when I left him," he says.
Hussein is one of the 3.3 million people in Somalia who will struggle to survive without emergency assistance. Mercy Corps is on the ground right now reaching families like his with lifesaving support while building the long-term stability of Somali communities to weather future crises.
We urge you to join us.
Every contribution helps us provide lifesaving assistance around the world.
Help spread the word about the millions who need us.