Entrepreneurs build valuable connections through MicroMentor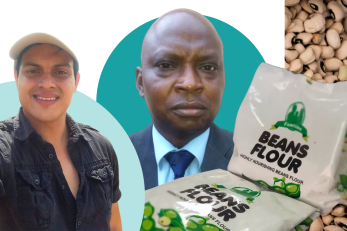 December 21, 2022
Continents away from each other, Razaq Ogunbanwo and Carlos Villatoro, two small business owners who had never met, made an impactful connection in ways that surprised both of them.
Razaq Ogunbanwo grew up in Lagos, Nigeria and spent much of his early career working as an accountant for banks, insurance companies, and construction businesses. Eventually he turned his attention to food and agriculture in his country.
"Nigeria is known to have a huge population of people but the amount of food we produce is not substantial enough," he said. "We rely a lot on imported foods."
Razaq took his curiosity and new interest to the Royal Agricultural University in Gloucester, England. While earning his MBA, he connected with students from all over the world. They discussed food production and food systems, and they looked at how each of their individual home countries were contributing to food security.
There are good mentors out there. You only need to continue to look to find them.

Razaq Ogunbanwo,

MicroMentor Participant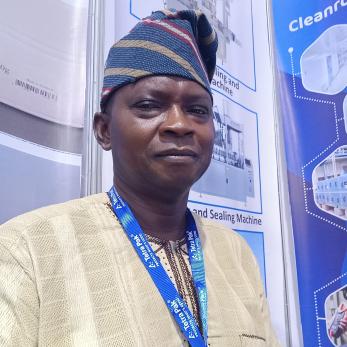 Soon after he completed the program, he founded his company, Hadij Resources Limited, owners of the Famtime brand. Hadij Resources was built on Razaq's vision to bring affordable, quality, and nutritious food to families while also supporting local economies in north central and southwestern Nigeria. They buy crops, like beans, from small farming families and then process their harvest into flour that is packaged and sold locally.
According to Razaq, as much as 40% of crops go to waste in Nigeria because of the lack of technologies to preserve food. But if fresh legumes can be milled into something like bean flour, storage spoilage or damage immediately decreases.
Razaq knew he had a great idea, but also recognized how additional guidance could help grow his business. He didn't know if it would be possible to access this kind of resource. "Good advice costs money," he said.
Solving problems together
When he scrolled past a Facebook ad for MicroMentor, an online business mentoring program with a global community of volunteer mentors and entrepreneurs, he saw the platform as a bridge for the technical support gap he wanted to cross. MicroMentor, a program supported by Mercy Corps, has helped foster more than 41,000 connections around the world since 2008.
One mentor that reached out to Razaq was Carlos.
Carlos Villatoro is an economist from La Union, El Salvador with a background in business consulting. His love for small businesses began with his family. They cultivate vegetables and fruits, but their specialty crop is coffee.
Friends and family with small businesses would often ask Carlos for his feedback on anything from inventory to taxes. When he stumbled on MicroMentor's website, he realized how far mentoring could reach. During the early stages of quarantine in El Salvador, Carlos was looking for ways he could make lockdown more meaningful. MicroMentor offered a space in which Carlos could invest his knowledge by connecting with entrepreneurs from all over the world, all while sitting in his living room.
Razaq was waiting for his packaging machines to arrive, a pivotal moment for his business, when Carlos first messaged him. "I initially thought, 'How would someone from El Salvador be helpful to me?' We have two different time zones, and the environment he lives in isn't like the one where we operate," Razaq said.
But after emailing back and forth, it became clear that a very productive mentoring relationship was forming. Their conversations turned into a roadmap, which included a marketing plan and an outline for Hadij Resources's entry into the international market.
Connections that create change
Razaq and Carlos found unexpected ways to relate. Carlos provided his family's coffee packaging design as a reference when they were discussing how Razaq could improve the packaging for his flour. And when Razaq shared with Carlos that he hoped to eventually add cassava flour to his offerings, both were happy to realize that the crop played important agricultural and culinary roles in both of their countries.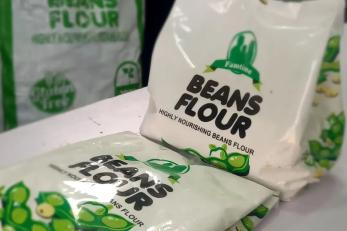 Carlos saw firsthand how connections and community offer crucial support for emerging businesses. "I might say, I know a friend who could help you," Carlos said. "Or, I met this other person on the platform who works in your sector and could guide you."
As for Razaq, he has launched Hadij Resources into an operational stage. His flagship product is his bean flour, and he's already shopping markets for his yam, rice, plantain, and cassava flours. His production meets local demand. After Carlos put Razaq into contact with an international market specialist, his company is now exporting to Europe, the United States, and South Africa—countries where many Nigerians live abroad.
"It's invaluable," Razaq said about the mentorship. "Mr. Villatoro's contributions cannot be quantified, and yet it is free." He is not alone. This past year, over 12,000 entrepreneurs on MicroMentor received an estimated $84 million USD in pro bono hours donated to mentoring.
When small business owners like Razaq connect with experienced professionals like Carlos, they problem solve together and build businesses that can have lasting community impact. Razaq remains hopeful for the future of Hadij Resources. "If you process food," Razaq said, "you are contributing to sovereign food security."
Share your business knowledge