Chapter 3: African countries fighting Ebola outbreaks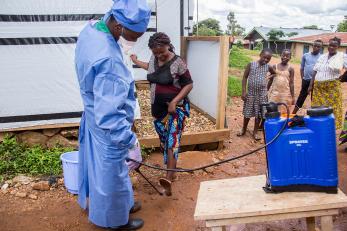 March 06, 2019
Ebola originated in African countries. However, it has affected other countries as well, including the United States. In this chapter, we will explore the areas affected by Ebola, and countries where the virus has been found. No country is immune from Ebola. However, being prepared to handle the virus drastically improves the survival rate and prevents the disease from spreading. Working together to educate each other and support the fight against Ebola can help prevent further outbreaks all over the globe.
Where is Ebola most commonly found?
Since 1976, the Democratic Republic of the Congo has had the most Ebola outbreaks. Most outbreaks begin in remote areas. Experts theorize that heavy forested areas containing infected fruit bats may be to blame for the multiple outbreaks in the Democratic Republic of the Congo. Other countries with multiple outbreaks include Uganda, South Sudan and Gabon.
Where is the Ebola outbreak now?
An Ebola outbreak is still taking place in the Democratic Republic of the Congo as of July 2019. The Ministry of Health, WHO and other organizations are working to keep the outbreak under control. Certain factors have hindered efforts to reduce the impact of the virus, such as political unrest. For example, protests at government buildings have prevented people from getting their Ebola test results. The protests frightened healthcare staff who temporarily withdrew.
WHO continues to closely monitor the situation and investigate alerts in affected areas within the Democratic Republic of the Congo. WHO is prioritizing infection control and prevention, and cross-border surveillance. Help is needed to further prevent the spread of the virus and to provide community health support. Over the next few weeks and months, community engagement will be key to dispelling myths and helping to curb the spread of the Ebola epidemic and we're working to rapidly scale-up our prevention response.
Which countries have had Ebola outbreaks?
The following countries have experienced cases of Ebola since its discovery:
The Democratic Republic of the Congo
Gabon
Guinea
Italy
Ivory Coast
Liberia
Mali
Nigeria
Philippines
Russia
Senegal
Sierra Leone
South Africa
South Sudan
Spain
Uganda
United Kingdom
United States
What causes Ebola in Africa?
Scientists believe that Ebola keeps emerging in African countries, particularly the Democratic Republic of the Congo, because of the prevalence of fruit bats that live there. The Democratic Republic of the Congo contains millions of acres of dense forest where many wildlife species call home.
However, this is just a hypothesis, and scientists still are not certain that this is why the Democratic Republic of the Congo has had more Ebola outbreaks than any other country. Living or working in a remote area where there is a large population of fruit bats seems to increase the risk of coming into contact with contaminated surfaces or animals.