The ripple effect of clean water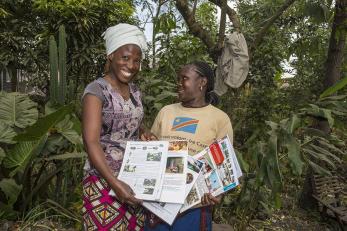 November 01, 2018
Around the world, clean drinking water is a matter of life and death.
In DRC, these life-and-death circumstances are exacerbated by other risks: violence, conflict and weak infrastructure that further threaten the most vulnerable.
That includes children under the age of 5. Lack of access to clean water, sanitation facilities and hygiene practices are the main causes of diarrhea, which is the second most common cause of mortality for young children there.
We're working directly in communities to help change that. And women like Noella, pictured above, are instrumental in making that change.
Water challenges in DRC
Long-standing insecurity and violence in DRC are forcing desperate people from their homes in search of peace. Families are fleeing their traditional rural and farming areas for towns and cities where they feel safer.
Around 4.5 million people are displaced within the country. This past year, the violent situation has only worsened. This increased level of displacement — coupled with mismanagement and lack of funding for water for more people — has led to a shortage of clean water in Goma and Bukavu in eastern DRC.
In many places, when water isn't available, it often takes hours of walking to reach a water source. And there are no guarantees that it's clean. When water is available locally, long lines to reach the taps or wells are likely.
That's why we're there, in the communities that need us most, improving access to and education about water for the most vulnerable citizens of Goma and Bukavu.
Improving the health of communities in DRC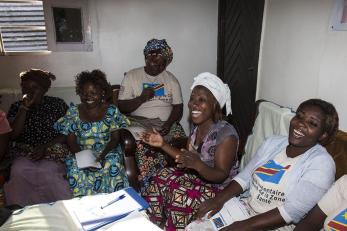 Noella, a social mobilizer volunteer for Mercy Corps and mother of three, is working in Goma to provide that water education. She's been volunteering with us for two years to reduce the number of deaths of children under the age of 5.
"[Mercy Corps training] is very important because I have seen some changes in my family in the past year," she says. "Through the Mercy Corps training, we know how to treat water and how to get clean water. And we know different ways of keeping the place clean and we have seen some changes in the way children were easily getting affected or falling sick. Since I'm getting that training I've seen a reduction in the sickness of children."
In 2016, when she started, there were more than 343 cases of children suffering from diarrhea and about 22 deaths among them. Since then, with the work of care groups like hers, the diarrhea rate in children under the age of 5 has been reduced from 10 percent in 2017 to an impressive 2 percent in July of this year.
Each volunteer who is part of Noella's group has another 15 women that they share their learnings with.
There are approximately 3,200 volunteers in Goma and each person has 15 people in their group, totalling approximately 45,000 women across Goma.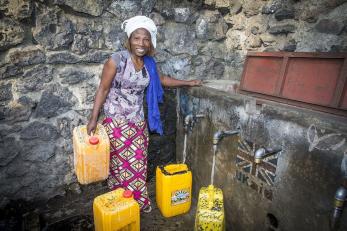 "All the lessons that you've been teaching us are very important, [like] how you've taught us to wash [our] hands before starting activities like cooking," says Banyere to Noella, who has been teaching her. "The lessons that you have been teaching us [are] bringing us peace because if there is an outbreak of cholera, if we're following the teaching of Mercy Corps we [won't] be affected with the cholera."
Noella showed us some of the hygiene methods she learned from our trainings, which she now shares with others: using a water container with a lid, using soap, washing plates and putting clean dishes in a new basket, discouraging using a cloth to dry dishes, and using three buckets for washing and rinsing.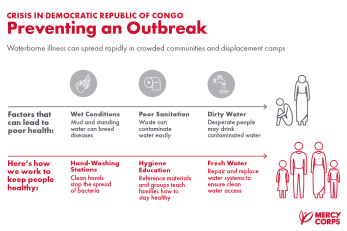 Noella also visited a clinic for children with malnutrition and participates in other social mobilization activities with volunteers and local Mercy Corps team members, like showing educational films to other community members.
These activities reach additional people, mostly pregnant women and women with children under 5, who do not participate directly in Mercy Corps' women's groups.
"[It's important] to learn and share with our neighbors in regards to protecting our children who are under 5 years," says Zawadi Cecile, 36, another program participant. "It is important so that they do not fall sick because of the stress it causes, and it costs additional money."
And that's the value of empowering people directly affected by crises. Noella may be just one volunteer, but she is part of a larger movement that's making waves across her community.
How you can help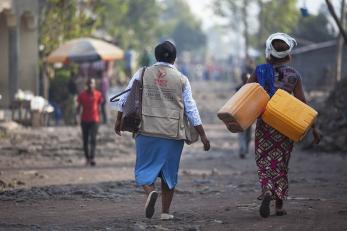 This year, we've doubled our humanitarian response in the Democratic Republic of Congo. We plan to help more than half a million Congolese over the next year, making Mercy Corps one of the largest organizations working in the country.
Help support women around the world who are fighting to build better lives.