Not to be forgotten: Helping people survive CAR crisis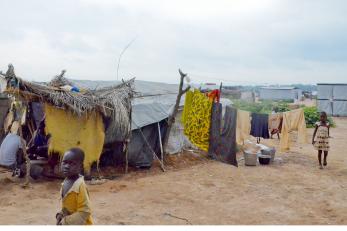 August 20, 2014
For the first time in recent memory, the world is seeing four different crises across the globe that have received the "Level 3 Emergency" designation from the United Nations — a mark reserved for only the most serious humanitarian situations.
Those countries, all active conflict zones, are Syria, South Sudan, Iraq and last, but not to be forgotten — the Central African Republic.
The humanitarian situation
Since January, increased sectarian violence has thrown the country into chaos and 2.5 million people — nearly half the country's population — have been affected, creating a massive humanitarian crisis. The U.N. has warned that CAR may be at risk of devolving into genocide.
In Bangui, the nation's capital, the situation changes day to day. Marie De Col, Mercy Corps' Deputy Country Director in CAR, says that most of the time the city is relatively calm, but violence still erupts in some neighborhoods without warning.
Clashes between civilian groups and other criminal activity are on the rise. No one feels safe in CAR. "People are getting really tired," said De Col. "They would really like to be given the chance to live in peace."
Now more than 500,000 people are displaced within CAR, many living in crowded camps with deteriorating conditions. "The situation is appalling," said Timothée Zoungrana, Mercy Corps' Program Manager in CAR. "The people living in displacement sites are in dire need of basic supplies and services."
During the current rainy season, mud, stagnant water and poor sanitation increase the risk of water-borne diseases. For families living in displacement camps, clean water and sanitation facilities are key to survival.
Providing emergency water and sanitation facilities
Our team in CAR is working in the capital Bangui and to the northwest in Bouar to address urgent water and sanitation needs — building showers, latrines and water pumps, teaching people about proper hygiene, waste management and disease prevention, and distributing clean water.
Mercy Corps is now delivering 60,000 liters of clean water per day, reaching at least 23,000 vulnerable people, to two sites on the outskirts of Bangui.
Also in Bangui, our team is leading water and sanitation activities at a settlement that accommodates an isolated enclave of displaced Muslim families.
"The population is really happy to receive help," said de Col, noting that the community has not received much assistance because of growing security concerns in the area.
Helping people cope with trauma
Helping the people of CAR through the ongoing crisis requires more than just water and supplies. Civilians are experiencing violence and trauma that can cause lasting physical and psychological damage. Women and girls are especially at risk for being attacked during the conflict.
To help them cope, Mercy Corps runs listening centers in Bangui, Bambari, Bouar, Bangassou and Rafai. At these listening centers, which stretch across the country to reach some of the more remote places in CAR, people have access to counseling, legal support and medical care.
"Initially [the centers] are there for gender-based violence survivors, but recently we've had visits from people who have been traumatized by what they have seen or what they have done," said De Col.
This kind of care and support can help survivors of violence heal from horrible traumas they have either experienced or witnessed.
Despite the unpredictable conditions and unending violence, Mercy Corps' staff in CAR, many who are national citizens, continue to provide help and supplies to those who need it most.
"We know our staff are witnessing violence every day," said De Col. "I'm really proud of them for working to rebuild their country. What they are living is really difficult."
What's next?
Our team will continue to evaluate and address the urgent needs of people affected by conflict in CAR. While emergency response is a high priority in times of crisis, Mercy Corps will also keep working within communities to address underlying problems that are the cause of tension and conflict.
Mercy Corps' work within communities includes working with leaders to build conflict-resolution and mediation skills, encouraging peaceful dialogues and supporting communal development projects — with the end goal of creating more stable and just communities for the future.
Make a gift to support Mercy Corps' work in some of the world's toughest places.