Building towards a better future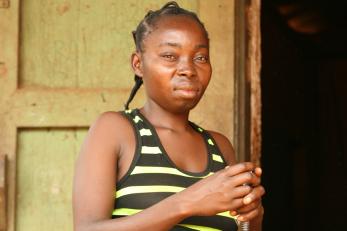 March 05, 2015
"She was the first one to catch our attention," said Marie De Col, Mercy Corps' Deputy Country Director in the Central African Republic (CAR). "We immediately wanted to know more about her." Young Berthe Yaloungou was the only woman in a carpentry workshop full of young men.
The workshop is part of a Mercy Corps resilience program in the southeastern city of Bangassou. The group of young men, and Berthe, had chosen to receive vocational training in carpentry as a new way to earn income.
People in CAR have been living in chaos and conflict for years. A violent coup d'état in 2013 made the humanitarian situation even worse, and the country has descended into lawlessness.
Plagued by poor governance and rampant corruption, CAR's basic services like water, health care, protection and education are minimal or nonexistent. Violence between government and rebel forces is unpredictable, and checkpoints limit movement in and out of cities and towns, including Bangassou.
In such a chaotic environment, it's extremely difficult for young people to get any kind of education or find stable work. It's even more difficult for women, who are often marginalized and face an increased risk of gender-based violence because of the conflict that surrounds them.
Berthe, 21, lives in Bangassou with her three siblings. Her parents are too old and too poor to care for the children, so the siblings have to make ends meet on their own. She said that she was once tempted by a "depraved life," but found a glimpse of hope when she happened upon the Mercy Corps resilience group a few years ago.
There are 37 different resilience groups in southeastern CAR — they offer vulnerable young people like Berthe a chance to start a new life. Members of the groups receive eight weeks of training in literacy, gender and empowerment, conflict resolution, savings and investment.
The groups also offer vocational training to encourage young people to start their own small businesses. Students choose mechanics, construction, tailoring, baking, masonry soap-making, or carpentry. Berthe was the only woman in her group to choose carpentry, but fitting in was the least of her worries.
"Carpenter is a difficult job, especially for a woman, but now that I know it, I like it," she explained. The group received carpentry kits with tools and enough wood to get started. A local craftsman trained them in the basics they would need to start their own shops.
Now, Berthe knows how to make tables, chairs, beds, armchairs and doors thanks to her training. "I am happy to be able to build pieces of furniture and sell them so as to maintain my family," she said.
De Col knows just how much these small successes mean to the members of the resilience group. "They are really proud to send their brothers and sisters or their children to school," she said. The groups offer young people a path out of poverty and help them avoid the cycle of violence that is damaging their communities.
Berthe's toughness is apparent in everything she does. With her new skills and the beginnings of her own business, Berthe has already changed her family's life for the better.
"I can now send my brothers and sisters to school, have enough food and buy clothes for the four of us," she said. She now has plans to buy a small piece of land for her family, so that she can stop spending most of her earnings on rent.
Being the only woman among her colleagues doesn't faze Berthe. The young men in her group are happy to have her and supportive of her goals. "We would like to have more women carpenters," said one. "She takes the time to learn and really wants to improve."
Not everyone in Bangassou is so open to the idea of a young woman carpenter, but Berthe's strong spirit pushes her forward. "Sometimes clients prefer a man carpenter, and I can't say anything against that," she said. "But once they see what I can do, they often change their mind."