Providing cash to Puerto Ricans in need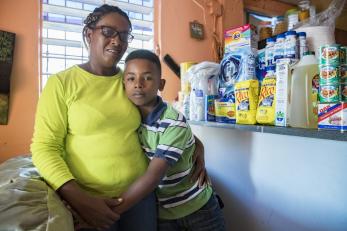 October 12, 2017
Three weeks after Hurricane Maria struck Puerto Rico, signs of the storm remain everywhere, from the remains of ruined homes strewn in the streets to families lined up for hours to buy the basic supplies they desperately need.
Ninety-one percent of people remain without electricity, and only 63 percent of people have access to clean water.
Working with local organizations like Project ENLACE in San Juan's Caño Martín Peña community, Mercy Corps is providing emergency cash cards so people can buy what they need most.
A desperate situation
"Right now, I'm afraid for my health," says Germania, 58, who lives in San Juan. "I really, really need food." Germania is diabetic. Her house was badly damaged in the hurricane, and she ran out of food three days ago. She's been relying on bread and water from her neighbors. Depression and desperation are setting in.
"We're going through something very difficult. It's really hard when you sacrifice for your house, and your roof is gone overnight," she says. "Now I have no idea where to sleep."
Her neighbor, Joana, 70, is also coping with diabetes. Without electricity, she needs a constant supply of ice to keep her insulin cool.
Caño Martín Peña, a community within San Juan where Germania and Joana live, is no stranger to destruction. The area is located next to a canal and floods frequently, exposing community members to pollutants from contaminated water.
Three out of four families in Caño Martín Peña experienced flooding after the hurricane. More than 800 homes lost their roofs or were destroyed. Many residents here are house cleaners or construction workers, so they don't have consistent employment, which worsens the economic impact of an already devastating disaster. Others are nurses, teachers or own small businesses.
"People lost everything. A flood of contaminated water? You can't clean that," says Imirse Orrusti Ramos, Community Organizer in Caño Martín Peña. "They lost their mattresses, they lost everything."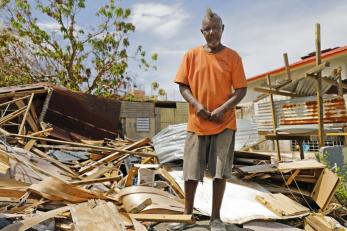 Luis, 54, just finished his third week of sleeping in his car now that his home is gone. He rode out Hurricane Maria inside his wooden home until the wind and rain became so intense that the home started to blow apart. He fled to a neighbor's house, then watched helplessly as debris from other structures crashed against his house and tore it apart.
"The only day I cried was when I watched it being destroyed," Luis says.
Since Hurricane Maria, more rain has drenched the already water-logged area. Carmen, 71, spends much of her time removing water from the home she's lived in for 67 years—she cycles through mopping, scooping water from the floor, and draining the mattresses she's covered with plastic. The roof of her home was badly damaged in the storm. "It has been very difficult," she says. "In all my years, I've never seen my house this wet."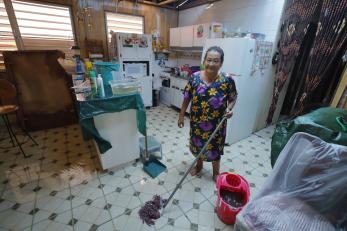 Despite the large inflow of water, she has no plans to leave.
"I will stay in the house because this was my mother's and my father's home."
Meeting urgent needs
Germania, Joana, Luis and Carmen have all received emergency cash cards from Mercy Corps so they can buy the items they need most. Nearly 90 percent of grocery stores are now open, mostly fueled by generators, while more than half of banks are open.
Giving people cash injects money into the local economy while ensuring that families are able to meet their most urgent needs. Mercy Corps' first emergency cash card distribution was in Caño Martín Peña: we distributed 158 cards worth nearly $25,000 total.
Before determining that debit cards would be the best form of financial support, we did an assessment to make sure stores in this area are open, that they have supplies available for purchase, and that they have credit card processing up and running. We also made sure that people have a way to get to the stores.
"The problem with giving stuff is people don't get to choose what they get. If people have a store nearby where supplies are readily available, it's better to give them the cash directly, and the choice to purchase what they need when they need it."

–Jill Morehead, leader of Mercy Corps' Strategy Response and Global Emergencies Team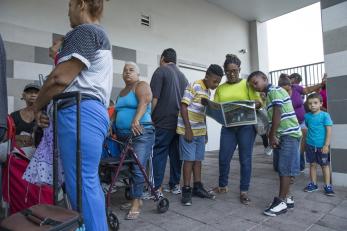 "I have been able to buy things that I didn't think I would be able to buy," says Aide, 45, a mother of seven children. "Even if we don't have a bed, now we have food. Even if we don't have electricity, we have food."
Aide cleans houses for a living. But she's known in her community as someone who's always there to lend a helping hand, whether working with homeless people or others in need through her family's church. Now, after the hurricane destroyed the top floor of her home, we're here to help her.
She was cleaning up debris in her yard when Mercy Corps team members arrived to give her the cash card. She used it to buy water, canned goods, cooking oil, rice, bread, juice, cereal, chicken, plastic plates, cups and spoons, laundry detergent, mosquito repellent, and other food and supplies to feed and care for her family.
Marisal, 47, was fortunate that her home weathered the storm. However, her household has now grown from four family members to 11, including children, grandchildren, and in-laws, placing a strain on her already precarious financial situation. She is in the midst of a year-long cancer treatment while her sister is chronically ill.
She plans to use her cash card to keep her and her extended family going. "Hugo and Georges were bad, but this one was the worst," she says. "Thank God that we are alive."
For 37-year-old Genny and her daughter, Jessy, help could not come soon enough. Jessy has a lung condition that requires air conditioning to control, which she must do without while electricity remains unavailable. Genny's own medical condition requires a constant supply of medication. Funds are tight.
They're living in the only room in the house that does not leak when it rains now. Much of the house remains permanently damp, and mold is growing within. "The thing I want most is for the rainwater to stop coming in," said Genny. "It's desperate."
She wasn't immediately sure how she would spend the money from Mercy Corps. "We're going to buy something, who knows what exactly, because we need everything."
Help us provide even more support to Puerto Rican families and families recovering from disaster around the world.
Ask your friends and family to contribute to our efforts to help families survive, recover and rebuild.